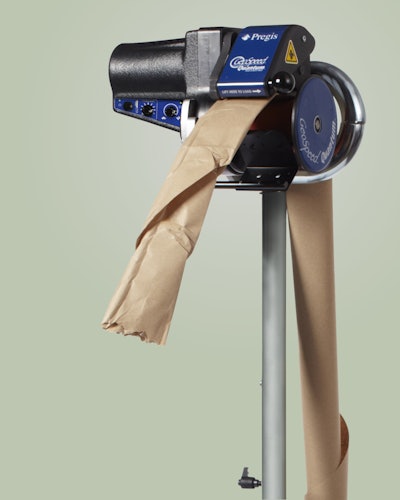 Built on the GeoSpeed Quantum system, which delivers crumpled paper from rollstock at speeds of up to 150 in./sec., the GeoSpeed Quantum XF offers higher volume users a way to automate some of the functions to achieve even higher pack efficiency.
The simple-to-use model features an advanced cutting solution. The power tear assist option uses a bladeless mechanism that is designed to keep the operator safe and keep productivity at its peak, particularly for high-volume packaging operations. 
The "feed-to-length" feature allows the operator to set the machine to dispense paper of varying lengths. This option enables better raw material consumption and inventory management. It also simplifies employee training on the proper amount of paper needed to package items of varying shapes and sizes.
The Quantum XF is also available with multistack accessories that allow the machine to pull from multiple rolls of paper, reducing the number of roll changes and maximizing labor efficiencies.
The GeoSpeed Quantum system eliminates paper jams. It also has a unique, patented floating-head design that allows paper rolls to be loaded in seconds. 
The units provide another alternative for companies seeking a strong environmentally-responsible profile. The company offers three paper alternatives:  a  30-lb. GeoSpeed Renew 100% recycled paper option; a 30-lb.natural kraft grade which is made from a percentage of recycled content; and a heavy-duty 45-lb. kraft option for more demanding packs.
Its versatile construction accommodates a variety of production line requirements including floor stand, table mounting, or custom installations.  Both units are lightweight and portable, yet durable enough to withstand the rigors of a warehouse environment. Once the machine is in position, the operator can make adjustments to suit his or her specific needs.  This includes machine height, paper dispensing angles and roll repositioning to help reduce the overall footprint.
Crumpled paper is suitable as small space void-fill, block/brace and light cushioning for a wide variety of products—especially items that are loose/unboxed or have sharp edges.
Companies in this article