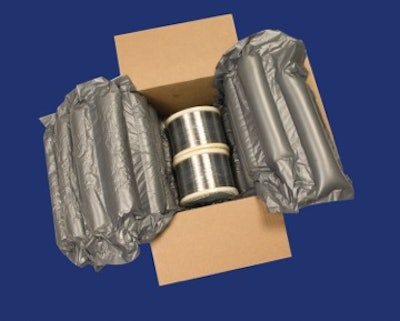 The system easily converts from bag to SmartTrax cushion mode via the user touch screen.  Operators have the option of working in an "on demand" mode or premaking a specific quantity in advance to meet production requirements.
A series of foam-filled cylinders can be used to create bottom pads to help cushion heavy objects.  They can also be used as end-caps and corner protection to wrap products or fill awkward voids.
The SmartTrax option is used in conjunction with traditional FIP bags. Users get the primary benefits of a traditional FIP bag systems, while also gaining additional void fill protection via SmartTrax.
In addition to its dual functionality, the Smart Bagger also features the IntelliPack brand's leading edge telemetry and bar coding features.  The telemetry function triggers daily diagnostic testing to make sure the unit is performing under preset parameters and will automatically contact a service technician if it isn't. 
Additionally, the system can be programmed with bar code data for each specific product that enters the pack station.  The information tells the unit the exact amount of film and liquid foam to use.  The end result is more cost-effective management of consumables and a significant reduction in downtime.
Companies in this article