Aline Heat Seal Corporation: Aline Heat Seal Corporation: Vacuum impulse sealer
Aline Heat Seal offers the E.L.V.I.S. (Entry Level Vacuum Impulse Sealer) designed for the budget conscious. Stainless-steel machine allows the customer to design its own vacuum sealer and select only necessary components.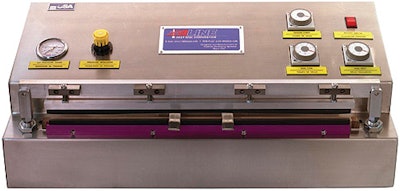 Machine is available with 2-year warranty, spare parts kit, and detailed operating manual.
Companies in this article
Fill out the form below to request more information about
Aline Heat Seal Corporation: Aline Heat Seal Corporation: Vacuum impulse sealer