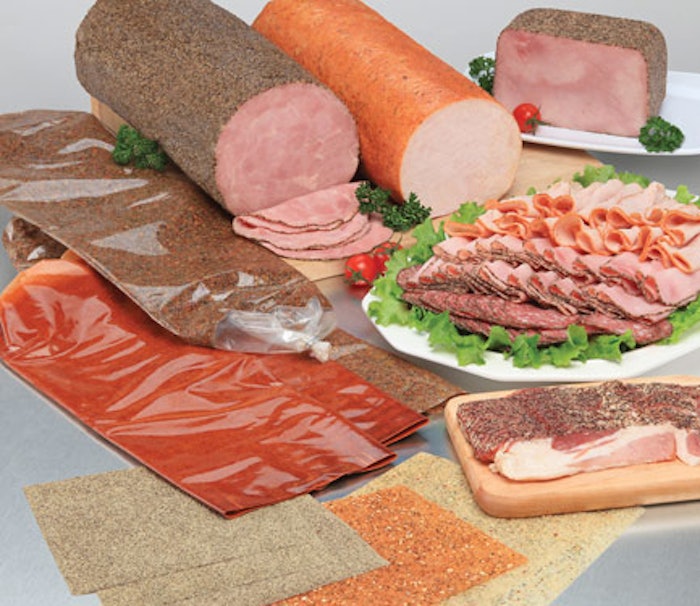 New FLAVORSEAL® Flavor Wraps™ Spice Transfer Sheets and Spice Transfer Casings have flavorings and spices adhered to individual transfer sheets or the inside of individual casings—that means no more labor-intensive, messy, and hit-or-miss manual spice application. Seasonings can be applied faster and more uniformly with less waste. Uniform spice coverage reduces leakers, enhances eye appeal, and helps maintain a consistent taste with every bite. Consumers will keep coming back to the flavors and brands they trust, and processors reap the benefits of lower manufacturing costs and higher profits. Call CMS to help you create customized Flavor Wraps Spice Transfer Sheets and Casings for your proprietary spice or flavor blend.
Flavor Wraps™ Spice Transfer Sheets
Spice Transfer Sheets for bacon, portion cuts, and deli meats are easy to apply and require less labor than traditional methods of seasoning application. The sheets are simply placed on top of the meat or bacon during the manufacturing process. The moisture in the meat transfers the flavorings and spices from the sheets to the meat for the perfect amount of seasoning every time.
With Spice Transfer Sheets, the spice stays where it is placed during processing, so there are fewer leakers caused by seal contamination and much less waste of expensive spices and flavorings.
An uneven spice application can be a very unpleasant taste surprise and could send customers to another brand. With Flavor Wraps, processors don't need to worry about uneven flavoring. The precisely calibrated sheets ensure a consistent product, every time.
Flavor Wraps™ Spice Transfer Casings
Spice Transfer Casings for sliced meats are high-quality casings with spices pre-applied to the inside. No more wasting spices compared to traditional coating or rubbing methods. Flavorings are transferred to the meat surface during processing, leaving a truly flavorful and appealing finished product.
Using Flavor Wraps Casings helps eliminate extra washdowns and changeovers caused by running multiple seasoned product lines. Flavor Wraps Casings work with existing processing equipment and can be stuffed and clipped by hand or semi-automatically.
Companies in this article