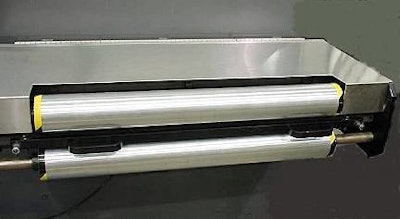 This simple but effective design creates an extremely durable butt splice ideal for films and non woven materials.
Butler has been the industry bench mark for simple durable designs that perform trouble free for years. This is another example of superior engineering delivering real value to our customers. The design uses a movable central preparation bar that slides out for easy preparation. The splice is made by using a hot wire and nip to both cut off the expiring web, and fuse the new roll to the running web. This is accomplished with very few moving parts, and a minimum number of replaceable wear items.
Butler engineering has the well deserved reputation for innovation with robust durable designs. The heat seal splicing head continues this tradition. Butler's engineering strength has made Butler a favorite in many industries to solve the splicing problems and deliver dramatic increases in productivity with cost effective durable designs.
Companies in this article