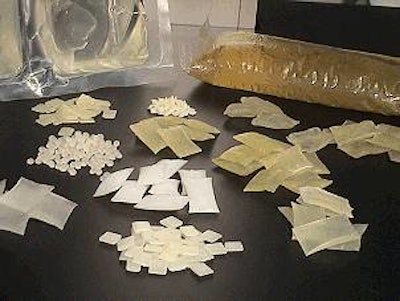 Shure-Glue's wide array of replacement parts include filters, pumps, modules, hoses, guns, nozzles, heater cartridges, pattern controls, and temperature control modules.
Since Shure-Glue replacement/spare parts and systems are Nordson® compatible, installation is quick and maintenance is easy. Most parts and systems can be delivered within a few days. Shure-Glue saves the packager time, inconvenience and money by providing low-cost, high-quality hot-melt systems and compatible parts, excellent service and on-time delivery.
NC-SERIES melt units, from 12 lb to 40 lb capacity:
Independent control of each heated zone minimizes adhesive degradation and permits precise, uniform patterns.
Cast-in heating elements allow quick warm-up and improved heat transfer.
Teflon®-coated tanks, grids, and hoppers reduce char buildup for easy maintenance.
Independent, redundant overtemperature circuits and system overpressure protection, provide safe operation.
45-degree manifold face for easier hose routing.
Precise RTD temperature sensing.
Prepackaged quick-change parts availability.
Compatibility with industry standard, pumps, RTD hoses, guns, filter tanks and drain valves.
Low-level indicator (optional).
Outlets for four hoses and guns.
Compliance with major approval codes worldwide.
Companies in this article
Videos from Nordson Corporation