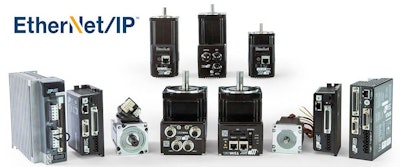 Applied Motion Products, a supplier of motion control products for OEMs and other industrial customers, has a range of servo drives, stepper drives, and integrated motors that now conform to the ODVA specification for EtherNet/IP communications, which mandates that vendors use a common network interface to ensure interoperability with products from other vendors.
ODVA conformant servo drives, stepper drives, and integrated motors are designed to perform their specific positioning, velocity, and other motion control tasks while simultaneously exchanging control, I/O, and diagnostic data with controllers on the EtherNet/IP network. Specifying ODVA conformant devices can speed time-to-market for the machines and end products of customers who use EtherNet/IP, according to the company. Customers also have the freedom to choose products from an international vendor pool and those products will interoperate in multi-vendor systems.
The line of ODVA conformant drives and integrated motors from Applied Motion Products includes SV200 Digital Servo Drives, created to have advanced performance and auto-tuning with multiple control options, ST Stepper Drives, which are step motor drives with stall detection, stall prevention, microstep emulation and anti-resonance, and StepServo Integrated Motors, high-resolution incremental encoders and closed-loop servo firmware meant to combine to create integrated motors that offer better performance.
Companies in this article