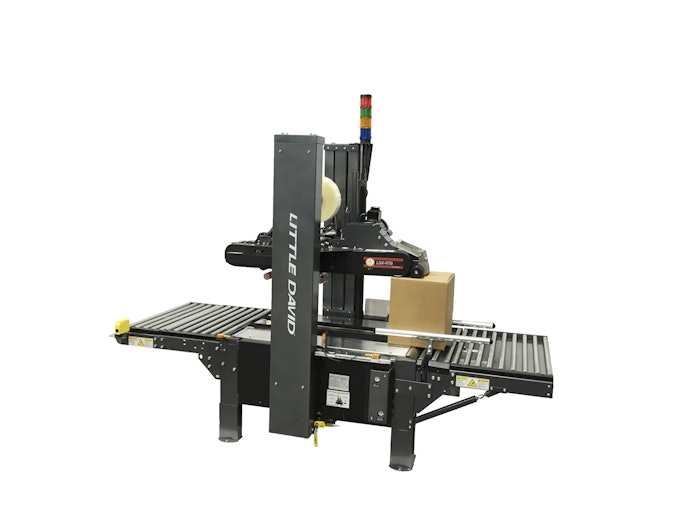 Loveshaw, a manufacturer of end of the line case formers, case sealers, labelers, and coding equipment, recently introduced its case sealer, the LDX-RTB 4.0 Ultra, at the Association for Packaging and Processing Technologies (PMMI) Pack Expo trade show in Las Vegas.
This operator fed, random, industrial grade case sealer is an upgraded version of the LDX-RTB 3.0, which has been used in the E-commerce industry and others. The LDX-RTB 4.0 Ultra is designed to process weak, void, and overstuffed boxes at a standard speed of 185 feet per minute. The machine's design features a top drive assembly that is made to travel on Thompson shafts and linear bearings, an Allen-Bradley 850 Programmable Logic Controller (PLC), which should provide machine performance data and a Human Machine Interface (HMI) display. The LDX-RTB 4.0 Ultra design is meant for easier access to motors, electrical components, and belts for simplified maintenance.
The LDX-RTB 4.0 Ultra is made to top seal random sized cases utilizing a pneumatic cartridge. Safety features include a top drive assembly that locks with loss of air or electric, a center fixed emergency stop button, and motors that are individually protected from overheating due to excessive loading.
Click here for more news on e-comm packaging.
Companies in this article