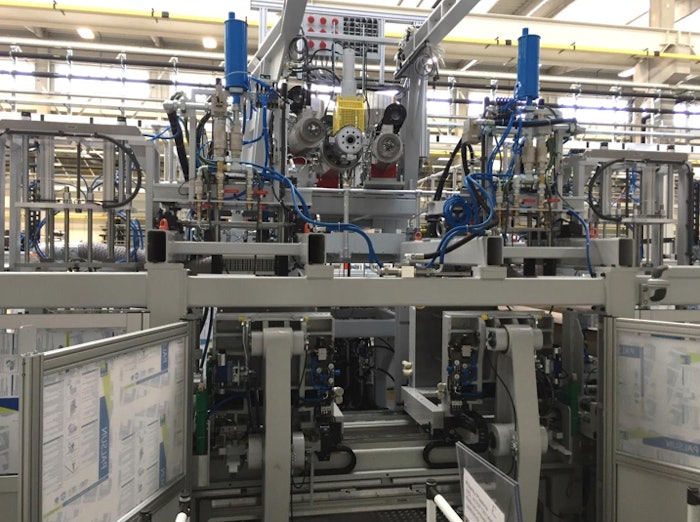 The new machine supports the rapid growth that Priority has experienced in the UN-rated tight head pail market. In addition to high speed quality, the new technology includes automated processing, multi-layer manufacturing capabilities, and high tech mold design allowing strength improvement in bottle manufacturing. The mold design supports light weighting and other eco-friendly product improvements as part of Priority Plastics commitment to develop sustainable plastic containers.
PriorityPour tight heads are built for the responsibility they carry. The new machine investment provides the opportunity to lower manufacturing cost allowing expanded geographic reach to service current customers and future prospects.
Our offering includes:
• PriorityPour Standard, Eco and Light Weight
• White & natural/stock
• 5-gal and 20L
• Rectangle
• Integrated handle
• 61 mm 6 TPI, 70 mm 6 & 8 TPI
• Tamper evident lids available
• Open hole/22mm vent with induction seal for tamper-evident or no hole
• Most containers are UN/DOT-approved for Y and Z regulations without the use of an outer pack carton.
The PriorityPour Eco and Light Weight containers deliver a multi-layer, sustainable product with the same integrity and durability as our standard containers. Multi-layer technology uses closed-loop or post-consumer regrind while the light weight option is 1,000 grams using up to 20% less virgin plastic resin. These sustainable options help Priority Plastics achieve our continuous-improvement goal to reduce our overall environmental impact.
In addition, Priority Plastics has an accredited in house UN-testing lab. Our UN-marked tight head containers meet or exceed all of the testing and manufacturing regulations and standards set by the US Department of Transportation, and specifically by the Pipeline and Hazardous Materials Safety Administration. Secure and safe, they are the preferred packaging solution for a wide variety of applications including food and flavor concentrates, janitorial sanitation and specialty chemicals including agricultural and lawn and garden.
Priority Plastics, Inc. provides packaging solutions with several extrusion blow-molding manufacturing facilities strategically located throughout the United States. It is our promise to deliver our absolute best through quality, timeliness, relationships and sustainability. Our areas of focus include tight head containers for industrial packaging to include agricultural/chemical, epoxy, high purity chemicals, lawn and garden, concentrates, syrups, and more; clear PET & PVC Containers for food, snacks, hardware, novelties; HDPE Canisters for nutrition, powders, supplements, cannabis/hemp; and turnkey towel wipes - Slitting, perforating towels/wipes, solution dispensing, capping, induction sealing, labeling, packing and shipping.
Companies in this article