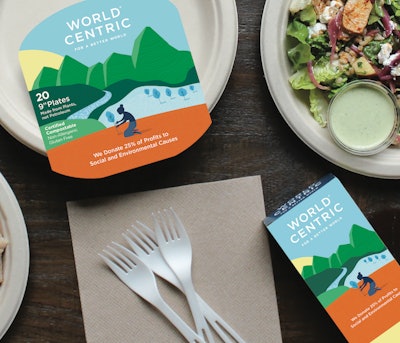 Primarily made from unbleached renewable plant fibers and plant-based plastic, the World Centric retail collection offers Target customers a sustainable alternative to traditional petroleum-based plastic disposable tableware options. The collection's availability at Target is part of the retailer's continued commitment to social impact and the environment.
"We're honored to be part of Target's family of purpose-driven brands," said Mark Stephany, World Centric Senior Vice President of Sales. "Target is leading the way with delivering more environmentally and socially conscious products to its consumers. This expansion helps us to bring our plant based compostable products to millions of families seeking alternatives to traditional petroleum-based disposable tableware."
The World Centric products now available on Target shelves nationwide include unbleached plant fiber plates and bowls, cutlery, straws and clear cold cups made from plant-based plastic, and FSC® certified hot cups and paper straws. The plates and bowls are microwave and freezer safe and can be used for both hot foods up to 200° F and cold items. The hot cups have a plant-based bio-lining instead of petroleum-based plastic. The cold cups, straws and utensils are free of any petroleum-based plastic.
In addition to being made from rapidly growing renewable materials, the entire World Centric retail line is 100% compostable, which means that all of the products will turn into soil in commercial composting facilities where available. The products are also chlorine-free, and take less energy to make than traditional disposables. World Centric also partners with environmental and social organizations whose programs help offset its carbon emissions.
Companies in this article