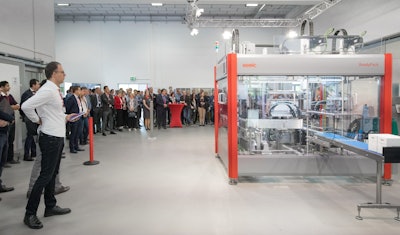 Somic, a packaging manufacturer, presented its Somic ReadyPack, an end-of-line packaging machine, to packaging industry executives from the U.S. and other countries in Amerang, Germany on May 24. The company's research indicated that there is a market for more simple packaging applications, so they aimed to produce a machine that fits industry requirements, and meets specific criteria such as speed, efficiency, and price points.
Somic introduced the Somic FLEXX III at PACK EXPO International 2018 in Chicago, which generated a lot of interest, according to the company. It was presented as a flexible solution for one-piece wraparound shipping cases or two-piece tray and hood for retail ready. The machine places stand-up pouches, flow packs, rigid containers, and other units. As a customized solution for shelf-ready packages, Somic anticipates the Somic ReadyPack will be as successful when it is debuted at PACK EXPO Las Vegas 2019.
The event began with a trio of messages from Patrick Bonetsmüller, Ralf Kettner, and Stefan Julinek, followed by a presentation on Somic innovation. Next was the introduction of the Somic ReadyPack. Thermoformed packages of cut sausages and soft candy in pillow pouches were demonstrated in both single and double rows while standing upright.
Two presentations about packaged foodstuffs and packaging materials—as they pertain to future influences on the packaging process—took place directly before and after lunch. The presentations were conducted by Vera Fritsche of the German Mechanical Engineering Industry Association.
Somic's special guest speaker of the day, famed Italian mountaineer, adventurer, and explorer Reinhold Messner, provided some key insights. Known as the first person to make a solo ascent of Mount Everest, his presentation, "Success founded on Strategic Risk Management," contained a mix of personal experiences and sound advice for those with business challenges. An evening event featuring Bavarian music brought the day to a conclusion.
"The decision makers that were in attendance were impressed with the presentations and the demonstration of the new machine," said Fox. "They came away with a better understanding of what Somic is and how we are well positioned to help them with packaging solutions for now and the future. This is vividly true in North America, where we are experiencing the busiest period in our history with sales orders and installing new machines."
Companies in this article