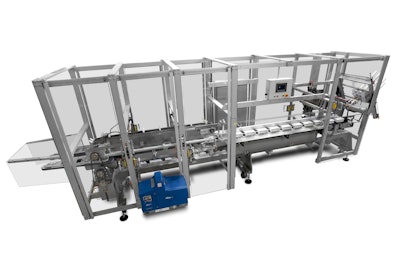 Michael Brown, Mpac Langen Managing Director for the Americas, explains why the B1-M machine is the focus for this event: "PACKEX is an exciting opportunity for Mpac to showcase our B1-M cartoner rental program to the North American market. We identified the need for short term packaging machinery solutions in Toronto and across the north American market more broadly as the region is home to many contract packaging companies.
These organizations can benefit hugely from this rental program as it will allow them to take on more short-term contracts, deal with sudden peaks in demand and help them launch new product ranges. B1-M rental offers these companies a versatile solution with minimal capital outlay, helping to drive business growth."
B1-M rental program perfect for North Americas
The B1-M is a manual load continuous motion cartoner with high covering and multiple pitch options for high speeds and great flexibility. Mpac offers the B1-M as part of a specialised service opportunity that gives businesses in the North American region the chance to rent this industry-leading packaging machinery solution with minimal capital outlay.
Michael explains: "The rental program is perfect for contract packaging companies for a number of reasons. The reduced capital costs compared to buying new machines increases business flexibility and their ability to react to sudden drops or surges in required output capacity. It also allows companies to acquire specialized equipment and expertise for one-off packaging contracts."
Companies in this article