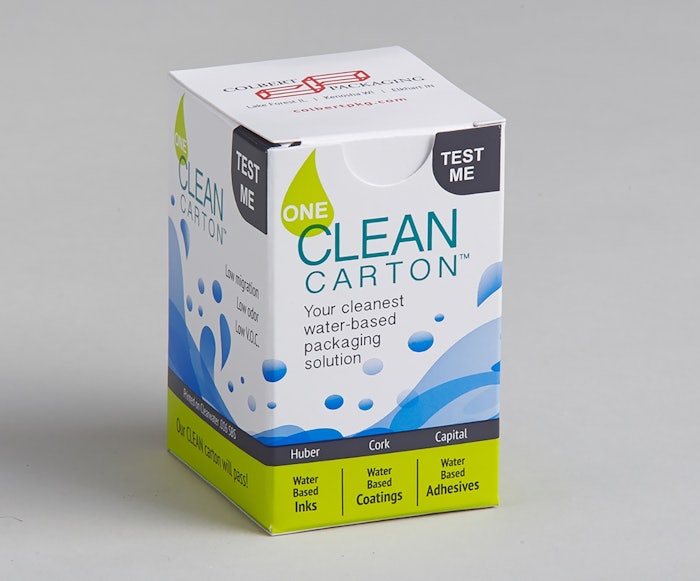 Low migration, low odor, and low V.O.C. are a must when it comes to secondary packaging for food and drugs. Demonstrating its commitment to environmentally-friendly paperboard packaging and corporate best practices, Colbert Packaging submitted its One Clean Carton™ samples for independent scientific testing in the fall of 2018.
"Our business is heavily focused on the pharmaceutical industry," says Lon Johnson, senior vice president of business development, "and we recognize that emphasis on low migration, no heavy metals and volatile compounds, combined with sustainability, is the future of that industry. Our Clean Carton is tested and proven to meet that need."
All components of the Clean Carton, including inks, coatings, and adhesives, are water-based, ensuring they meet environmental and safety agency standards to be considered clean and safe for indirect contact with the products they contain. In order to make the Clean Carton claim, Colbert Packaging surpassed minimum standards by submitting to scientific testing to obtain documented proof that Clean Carton meets these requirements. In summary, the product is derived from the following components:
• Paper is the foundation for Clean Carton. Colbert's standard, the paperboard, is Solid Bleached Sulfate (SBS), ensuring only virgin fiber with no mechanical pulp in a middle ply. The composition of this paper provides for superior performance on press, resulting in less waste and lower consumption of raw materials and ink, which supports sustainability and recyclability as an added benefit.
• The water-based inks comply with Swiss Ordinance and Nestle Guidance standards.
• The aqueous coatings originate in the United States and meet or exceed U.S. federal and state guidelines.
• Finally, Clean Carton water-based adhesives meet or exceed V.O.C. emission requirements.
"When our pharmaceutical and CPG customers select our Clean Carton methodology for their packaging solutions," Johnson adds, "they've chosen a paperboard product that has passed scientific testing in support of their critical packaging requirements, and one that reinforces Colbert's smart, safe and sustainable brand promise."
For more details about One Clean Carton, download a free white paper.
Companies in this article