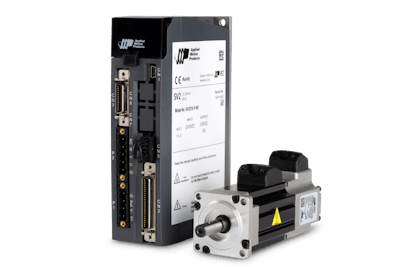 Removing requirements for power conversion components, these DC-powered drives reduce costs by allowing multiple servo axes to draw power from a single DC power source. Smaller in size than comparable AC-operated drives, the SV200 Servo Drives require less space in a control cabinet and fit in space-constrained applications such as automated guided vehicles and other small machines.
Applied Motion's fully digital servo drives also feature:
• Auto-tuning, anti-vibration function and programmable notch filter for smooth motion and accurate positioning
• 10 Amps continuous, 20 Amps peak output current
• Supply voltages from 24 to 60 vDC
• Various control modes including step (pulse) & direction, analog torque/velocity/positioning, encoder following, streaming commands, stand-alone operation (indexing) with Q Programmer™ software, EtherNet/IP, Modbus TCP or RTU, and CANopen
• 8 regular digital inputs: 5 – 24 vDC; 4 high-speed digital inputs: 5- 24 vDC and 6 digital inputs: 30 vDC
• Safe Torque Off input
• Dual-port communications for daisy chaining drives together (line or ring networks
Applied Motion's new DC powered drives are optimized for use with their high torque J Series Servo Motors in the 200W, 400W, and 750W power range.
Companies in this article