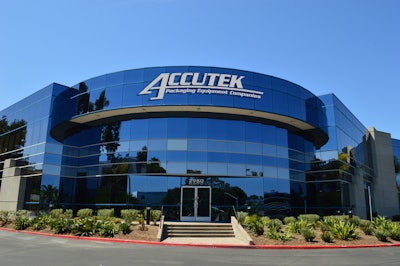 The new 130,000 sq-ft facility will incorporate solar power, cool roof, covered parking, multiple loading zones for service, production, and parts along with LED lighting throughout. This world class facility will contain segregated areas for machining centers, sheet metal shop, automated cutting and welding, assembly, and integration. In addition Accutek Packaging is adding a new 3D printing and design center to its engineering department and expanding the research and development lab.
Because of its consistent growth in the packaging industry, Accutek Packaging needed more space to complete large turnkey packaging solutions for its customers. The additional space will allow for shorter lead times and larger systems to be completed for its customer base and future customers. The new location will be a great place to demonstrate to prospects its high-tech production equipment running live demonstrations with the customer's products, deliver high-quality packaging equipment and enable Accutek Packaging to respond effectively to the growing needs of various customers that are seeking to implement technology-oriented solutions in their business.
This new location will feature technical packaging equipment expertise with an in-house staff equipped to service sophisticated machinery, develop turnkey integrated packaging lines, and engineer automated systems. Accutek Packaging will have enhanced capabilities to design complete production lines with a variety of packaging solutions and consult on high performance materials suited for a wide variety of applications to include:
• Filling
• Capping
• Shrink Sleeving
• Labeling
• Production line integration
Accutek Packaging firmly believe that this expansion supports the growth and continuity of its business. In a statement from Accutek Packaging Equipment Company Inc., "We thank all our clients for their ongoing support throughout the years. Your business is what has supported the continued growth of our business. We look forward to welcoming existing and new clients to our new showroom for a look around, and we hope you will agree that it's a fantastic modern upgrade and expansion. Here's to our mutually successful future."
Accutek Packaging's new location address is 2980 Scott Street. Vista, CA 92081.
Companies in this article