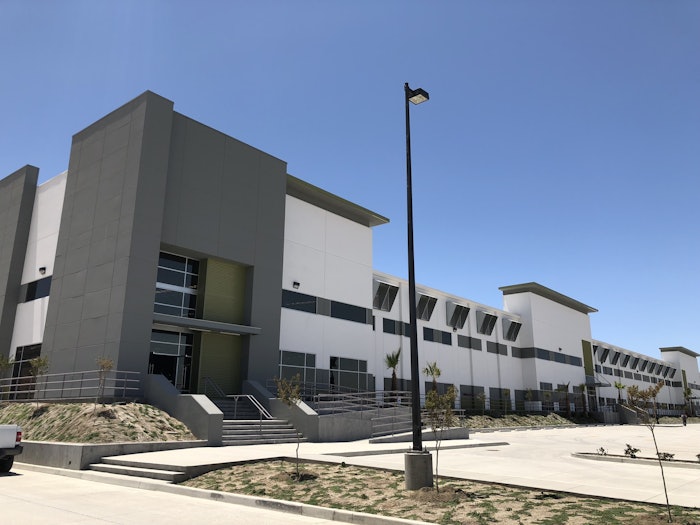 The building is named Falcon I and will be located in the La Encantada industrial park area. The building was named after the Millennium Falcon, a 'wink' to Transparent Container's speed-to-market philosophy.
For many years, Transparent Container's Ontario, CA, facility has been a convenient production partner for its customers. However, recently, it has all seen a clear trend of brands and manufacturers moving their production to Mexico. As Mexico continues to grow as a manufacturing hub for its partners and other North American brands, Transparent Container started evaluating the best ways to serve them.
Transparent Container has relocated production to follow customers before. Steve Fifer, VP of Operations, recalled a long-time customer it secured in Georgia but later moved to Illinois. Now they manufacture in Tijuana, and Transparent Container produces their packaging in Ontario, CA. In another example, Transparent Container even built a temporary facility in Scotland to support Motorola's growing European business in the 1990s.
Fifer points out, "Several of our key partners have moved their manufacturing facilities to Tijuana and Mexicali in the past few years. When we saw the general trend in that area, we determined the best way to serve businesses in Mexico is by building a new manufacturing facility.
The transition and expansion to Tijuana allows us to provide great packaging solutions to new partners in Mexico as well."
"Opening this facility allows us to help our customers in two ways. We'll be closer to our customers in the area, and Tijuana is a lower cost area for manufacturing. It will provide a lead-time savings and a cost improvement." Says Fifer.
Building a State-of-the-Art Facility
Fifer's production plan includes 11 thermoforming machine lines. Transparent Container will run custom thermoforming and ComboBlister® in the Tijuana facility.
Transparent Container will transition from the manufacturing facility in Ontario, CA, to make this change. It will be able to serve its customers in Mexico and on the West Coast locally with the new facility. Replacing the Ontario facility with the new Tijuana facility doubles its manufacturing space in the region.
Project Green Light
The key to Transparent Container's success over the years has been a focus on innovation and customer support. The Tijuana expansion is an important part of this strategy. It recognizes the value of being close to its customers' point of manufacture.
The project has been active for a year already with support from several key members of Transparent Container staff. Fifer and his team helped manage a variety of projects with international nuances. Arguably the most momentous news to date is Transparent Container's new hire, Plant Manager Javier Solis.
Solis is the perfect leader for the new plant. He's 25-year packaging and manufacturing veteran and a Tijuana local. He's training with existing Transparent Container teams now, preparing to open the new facility. Fifer indicated the importance of ensuring Solis' understanding of the business that's moving to Tijuana. The time Solis spends in our existing manufacturing facilities will help him incorporate company culture in the procedures he will implement with his new team in Tijuana.
Since the Tijuana facility will have 11 lines, including custom thermoforming and ComboBlister®, the process is extremely important. The ComboBlister® program is the fastest in the industry – with 3-day blister tooling and 12-day production times. Solis' years of experience coupled with the manufacturing process will provide great packaging solutions to our partners in Mexico.
Solis will also work with the team of people implementing the Tijuana project to achieve the final milestones prior to launch: installing power, and moving machines and support equipment. Over the course of the next few months, Solis will begin building his team, hiring and training the staff who will help him launch production later this year.
Phased Approach to Production
Fifer answers questions about launching production with confidence. "We're going to have a phased approach to production. We will start production this winter, starting with one customer in custom thermoforming and training our team to add scale. We'll start running ComboBlister® in the spring of 2019."
Companies in this article