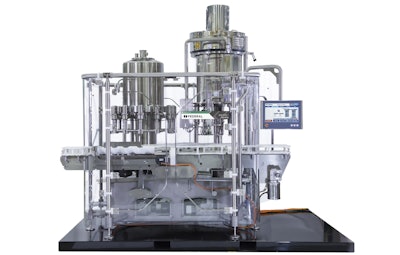 A seasoned management team oversees the investment in engineering, manufacturing, technical support, and aftermarket parts – developing the optimum infrastructure for expanding global sales of filling solutions under the Federal and Pacific brands.
Federal brand fillers are utilized for free-flowing liquids and are renowned globally for dependable level filling systems, precise weight filling technology, ease of operation, sanitary designs, and long years of trouble-free service. The Pacific brand, equally recognized for ease of use, long years of service, and precision operation, are rotary-volumetric fillers for viscous products, and products requiring two-stage or bottom-up filling. Pacific branded products also include rotary-mass-flow, mag-flow, and inline-volumetric fillers.
The senior management team for the Federal brand now has responsibility for both the Federal and Pacific brands. Mark Vanzant has been named Vice President and General Manager of ProMach Filling Systems; Cezar Mroz, Director of Engineering; and Paul Kearney, Vice President of Sales.
"Bringing together two great brands of filling technology into a single organization is an important example of how ProMach is investing in industry leading packaging systems and customer support," said Vanzant.
Mroz added, "Our entire team is excited about expanded engineering resources and the focus on solutions development driven by customer needs and customer product applications."
ProMach Filling Systems operates manufacturing and assembly facilities in Waukesha, Wisconsin, and Corona, CA. Both facilities provide aftermarket support, including parts and technical field service. ProMach Filling Systems' regionally based sales force now represents both Federal and Pacific brands of filling systems. A cross-trained regionally based sales force will significantly expand the reach of both brands through increased customer contact and customer communications. Federal and Pacific field service technicians are also being cross-trained on the systems of both brands to expand availability of skilled technical support.
"ProMach Filling Systems demonstrates ProMach's commitment to providing best-in-class technologies and industry leading customer support experiences," said Mark Anderson, ProMach President and CEO. "We will shortly be announcing investments that expand the engineering and manufacturing capabilities and capacity within ProMach Filling Systems."
Companies in this article