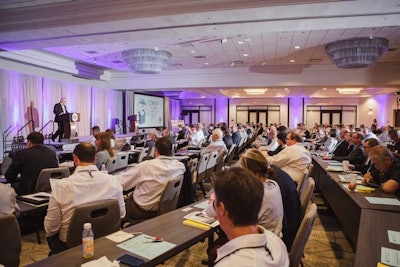 Taking place in the heart of Baltimore's popular inner harbor, the meeting will convene CEOs and executives from both integrated and independent folding carton and rigid box manufacturers.
The spring event is one of two biannual PPC conferences where the association's membership comes together to discuss common challenges and opportunities, network, and learn new management techniques and perspectives.
To help attendees expand their business development efforts, the conference will feature a keynote presentation from Sam Richter, an internationally recognized experton sales intelligence who has been named one of the world's Top 25 Most Influential People in Sales. According to Richter, it's crucial to understand prospects' needs and interests, and that information can be found on the web if one knows how to look. Richter's session will offer attendees web search secrets for finding leads, creating lists, uncovering opportunities, identifying needs, and understanding decision makers. Ultimately, it should help attendees to build deeper relationships with prospects and win more business.
The conference will also include half-day seminar, facilitated by coach and organizational culture expert David Friedman, on how companies can create and leverage a high-performing culture. Friedman emphasizes that company culture is the biggest opportunity for competitive advantage in highly commoditized industries—after all, competitors can't copy another company's people. Friedmanwill show attendees how to create a high-performing culture that differentiates firms and leads to success.
Other speakers include: economist Alan Beaulieu who will provide an overall economic forecast; hospital association executive Bruce Siegel, MD, who will offer employers insight into the future of healthcare; Mike Ferrari, packaging and printing consultant, who will reveal secrets to packaging success in the digital age; and Mary Anne Hansan, executive director of the Paper and Packaging Board, who will update attendees on the paper industry's promotional How Life Unfolds™campaign.
"It's important that attendees get more value from PPC's conferences than they invest," said Ben Markens, PPC president. "That's why we carefully curate a wide range of engaging and educational speakers. I'm thrilled with the current roster."
Additional sessions include a supplier showcase breakfast where converters can learn about updates in technologies and substrates, a celebration of the safest converter plants according to PPC's 2017 Safety Boxscore Data Reports as well as several special interest group meetings on sustainability, marketing, rigid boxes, industry data, and women'sleadership.
Attendees will also enjoy a cruise of Baltimore harbor and other valuable networking opportunities.
Companies in this article