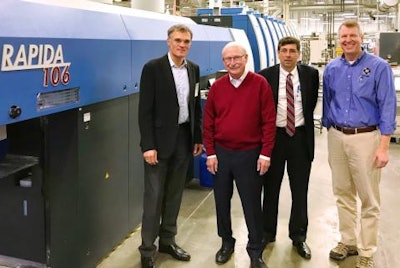 "It is always a pleasure of mine to visit a Koenig and Bauer customer and see first-hand the excellent award-winning work that they are producing," says Bolza-Schünemann. "Our goal is to provide our customers with the most effective and unique technology to allow them to compete in the marketplace and set themselves above their competition."
With the installation of its new eight-color, 41˝ KBA press, Hammer is working hand-and-hand with its customers on how it is pioneering a new generation of offset printing. This new configuration is yet another unique layout to its portfolio of presses, says the company, and is making Hammer truly one-of-a-kind. This latest press represents the newest technology available with the fastest press speeds in the world.
"We are particularly excited that no one in our marketplace has this press configuration," says Jim Hammer. "We've configured a press that provides us with fast changeovers and higher press speeds. It offers a larger format that will benefit greatly some of our layouts. Plus it is equipped with the revolutionary new Flying JobChange technology. This new North American feature for cut and stack labels applications allows our operators to change plates on one or more printing units while the press is running.
He continues, "This addresses the needs of our customers to provide much higher than normal overall throughput of their jobs and making us even more efficient and productive. It also allows us to produce print runs even faster as our customers condense their lead times. We feel that this new capability will be a boon for our customers who can take advantage of this new feature for recipes, promotions, and semi-variable data. An efficient, new opportunity for cut and stack labels has come to reality at Hammer."
With plastic printing, foil printing, in mold foil printing, and lightweight paper markets being strategically growing for Hammer, the new KBA press will allow Hammer to be more competitive in the marketplace. This is especially true for Hammer when producing its labels on synthetic substrates, which will be produced at the highest quality and fastest speeds on its new KBA Rapida 106.
"We have developed a very special business partnership with KBA North America," adds Jim Hammer. "We view Koenig & Bauer as a technology company that is willing to invest in the packaging marketplace in a true partnership arrangement. They have demonstrated over and over again how they are willing to help us lead, not follow, in our marketplace. We are proud to continually invest in the most advanced technology the world has to offer - simply to reduce costs and deliver a better product. This new KBA press provides us with the latest advancements and allows our team at Hammer to provide our customers with fresh and exciting solutions."
Companies in this article