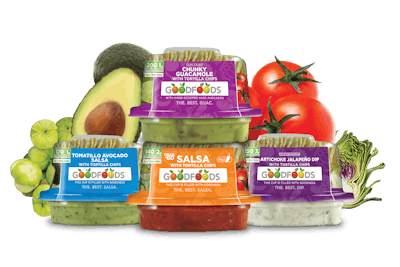 The Institute of Packaging Professionals (IoPP) awarded Display Pack during the AmeriStar Package Awards Competition.
Judges considered more than 80 packages for 12 category awards, four student awards and AmeriStar's top three awards. A roster of nearly 20 judges from various segments of the packaging industry evaluated this year's entries in person, examining package innovation, product protection, economics, performance, marketing and environmental impact.
The top three AmeriStar awards include the the Sustainable Package Award, the Design Excellence Award, and the Best of Show Award.
Display Pack's easily stackable packages up the game in the competitive single-serve convenience foods aisle. To reduce the risk of pathogen contamination, the dip cup portion of these packs is high-pressure-processed after being filled and sealed with lidding film. The chip cup portion is filled and sealed with a foil lid on a separate machine, and then the two cups are snapped together and sealed together with a shrink wrap label. The thermoforms are made with 30-ml rPET to take advantage of the material's clarity, recyclability and rigidity to withstand high-pressure processing.
Companies in this article