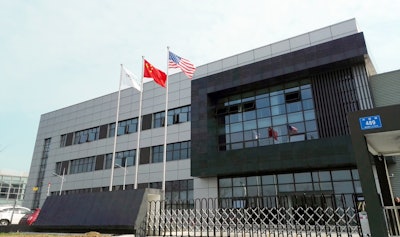 Tekni-Plex, Inc. invested $15 million into a new manufacturing facility in Suzhou, China, near Shanghai. It represents the single largest recent investment by Tekni-Plex and reflects the growing needs of the Asia-Pacific pharmaceutical and medical device market. Production for some product lines has already begun.
Initially, the more than 140,000-sq.-ft.-facility will manufacture products for Tekni-Plex's Natvar, Colorite, and Action Technology business units. The facility will feature three Class 100K cleanrooms to accommodate medical-grade tubing and components production plus one Class 10K cleanroom that will produce Natvar's pharma-grade tubing.
The facility also will produce Natvar's recently-announced silicone extrusion tubing for catheters, feeding tubes, drug delivery, and peristaltic pump applications, as well as microextrusion tubing that targets a wide variety of demanding neurovascular interventional therapies and surgical applications. The facility will also manufacture Colorite custom compounds for medical device applications, and Action Technology's dip tubes used in a wide variety of food/beverage, pharmaceutical, personal care, industrial, and household pump applications.
"Tekni-Plex's investment in our new China facility is another step in our continuing commitment to support our customers with robust global supply. Pharmaceutical, medical device and other manufacturers want access to exactly the same components and materials regardless of where in the world their manufacturing facility is located. It is our goal to meet those objectives," saysPaul Young, chief executive officer.
Tekni-Plex is in the process of phasing out production at its existing facility in Suzhou that it has operated since 2005.
Companies in this article