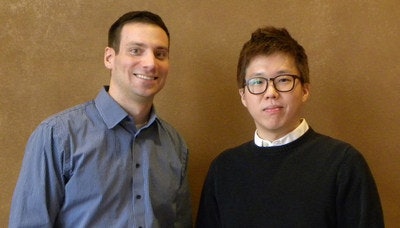 TricorBraun Design & Engineering Group hired Jay Lee and Jeff Bersch as product design engineers. Lee began in November and Bersch in January. The product design engineer at TricorBraun works with the industrial design team to transform 2D or 3D concepts into production ready solutions that can be properly molded. In addition, the design engineer engages closely with TricorBraun's in-house mold development center and/or outside development partners. Lee and Bersch each bring an engineering background, technical expertise and talent to the Design & Engineering team.
"We feel very fortunate to have Jay and Jeff on our team," says Marco Serrano, Design Development Manager. While each has a unique skill set, they share a tremendous enthusiasm for TricorBraun and the packaging industry."
With a BFA in Industrial Design from the University of Illinois, Lee began his career as a design engineer at SRJ, Inc. where he was responsible for new product design development or reverse engineering of existing products, specifically construction equipment attachments. He also worked as a concept designer at Almost Home Foundation building dog park expansions. Lee comes to TricorBraun from The Carlson Group where he was an engineer in the retail design industry.
"I'm very interested in learning more about consumer preferences and the important role this plays in package design and engineering," Lee says.
"Jay has the unique ability to think through and create ideas for both the design and engineering side of the package development process. This is not typically the case with engineering minds but it is a great advantage to have," Serrano adds.
Bersch graduated with a BA in Physics from the University of Minnesota and enjoys problem solving. He comes to TricorBraun from HealthPostures, where he was a mechanical design engineer designing ergonomic sit/stand office furniture. While in college, Bersch was a lab teaching assistant for a 3D printing and additive manufacturing course for two years.
"I'm so excited about combining creativity with technical thinking in my new role to solve package engineering challenges for our customers. When I was a kid, I had a habit of taking things apart and putting them back together. I definitely have a passion for solving problems," Bersch says.
Companies in this article