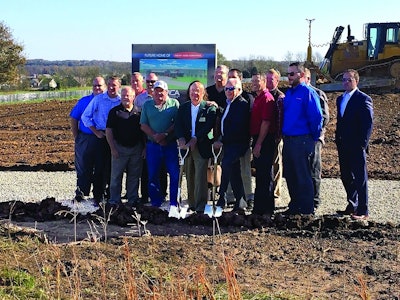 A new Spray Dynamics facility will be located in Union, Mo., and will employ 50 to 60 personnel with the ability to expand to over 100 employees in the near future. The building will be located on a 13.32-acre green field site with a 103,000-sq.-ft.-manufacturing and office area. The project is engineered by Washington Engineering & Architecture Inc. and is expected to be completed by third quarter 2017.
Heat and Control acquired Spray Dynamics in 2011 and the last five years has seen global growth in demand for coating seasoning and flavoring application solutions. Spray Dynamics has brought engineering and manufacturing solutions for controlled application of liquid and dry ingredients to the Heat and Control catalogue. This new facility will offer the latest in manufacturing capability, a modern office and engineering space, product testing rooms, and the space allows for future site development.
A key feature of the new facility is a demonstration/trial center that will provide comprehensive testing capability across a range of Heat and Control products. This site offers the ability to test an integrated line of processing, conveying, coating, and packaging equipment. R&D teams can perform a complete test from start to finish or individually, as required, with the direct assistance of Spray Dynamics expertise. The room features an inspection and instrumentation space for product attribute testing during trials, a walk-in refrigerator and freezer, and a temperature control system that can mock plant conditions.
Companies in this article