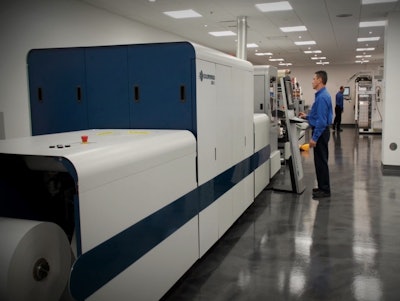 Domino recently completed a major expansion project of their demonstration and training facility at Domino North America headquarters in Gurnee, IL. To celebrate its debut, they created a "Virtual Tour" video that gives you a sneak peek inside their facility.
The video highlights new equipment, new capabilities, and their continued investment in digital printing. To view the quick five-minute "Welcome to Domino – Virtual Tour" video, visit dominodigitalprinting.com/videogallery.
Expanding nearly 3,500 square feet, the new Domino demonstration and training facility offers customers and prospects the opportunity to see the latest innovations in digital printing. There are two Domino N610i digital UV inkjet label presses (one with inline finishing and the other running roll-to-roll). In addition, there are three Domino K600i monochrome digital UV inkjet printers (two printing web applications, and the other mounted on a sheet transport system).
"We are very excited with our new demonstration and training facility and the opportunities it brings our customers and Domino," says Bill Myers, Marketing Manager – Digital Printing. "For companies considering implementing a digital printing solution for the first time, or those currently using digital printing and wanting to take their business to the next level, they really need to visit Domino. It's not just our equipment they need to see...it's the culture, the people, the enthusiasm. We call it the 'Domino difference'."
With the newly expanded demo and training facility, Domino staffs it with five full-time personnel—three for running samples and demos, and two for training. Plus other Domino experts are brought in as needed, including their G7 certified experts. Domino starts with customer objectives: What do they want to accomplish? Using customer files and substrate material, Domino will print the jobs that the company typically runs, so they will get to experience a demonstration as if it were in their facility. Since not everyone can visit in-person, Domino's new video presents a "virtual visit."
"We wanted to create a video to celebrate our newly expanded demonstration and training facility and give viewers a glimpse inside Domino, as if we were opening a window for them to 'take a peek inside'." adds Myers. "We know that not everyone will have the opportunity to visit our facility in-person, so a virtual tour is the next best thing. We believe the video will allow viewers to not only learn more about Domino, but also illustrate that we are a great company to do business with."
Companies in this article