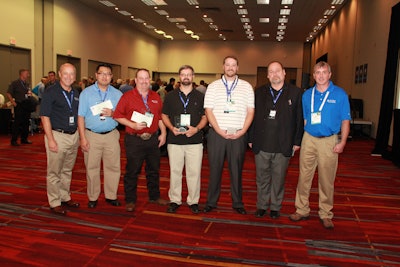 Sai Houatchanthara, Axon
Sai has been with Axon for 24 years and consistently displays a "whatever it takes" attitude to ensure that our customers' equipment is running at peak performance. Like a fighter who takes on all challengers, Sai is a true champion who willingly tackles any service, trouble shooting, maintenance or training challenge. Axon customers worldwide routinely ask for Sai by name.
Sai has a knack for applying his years of experience and technical knowledge in a way that puts customers at ease, increases their self-sufficiency, and ensures results. A large container manufacturer recently said:
"I know you hear this all the time, but Sai did a great job training our employees. The feedback was nothing short of perfect. He was understandable and patient. I want to make sure you all know what a valuable asset you have with him."
Sai's ability to "wow" the customer is the norm, not the exception. He brings outstanding value to our customers and our business. His ability to build relationships with our customers and teach them the little things that keep their lines at peak levels is incredible.
Daniel Cotney, Benchmark Automation
Daniel has been with Benchmark Automation for 5 years. He is as an outstanding project manager, who consistently ensures that customer projects are completed on time, on budget, and performing at the highest level. His professionalism and ability to manage complex projects has made him invaluable to our customers.
Benchmark Automation recently received one of its largest orders ever for a customer launching its first snack cracker product in the US. Daniel volunteered to be the Project Manager, which included installation and integration of our equipment with multiple 3rd party solutions. Daniel was the main point of contact, managed day-day-day activities for all service personnel, and worked alongside them throughout installation. He summarized issues daily and developed plans to resolve them quickly. Daniel kept all parties informed and satisfied. Our customer repeatedly mentioned Daniel's hard work and excellent support in helping operators gain a better understanding of how the overall system should perform.
One of Daniel's greatest customer service strengths is his ability to be an advocate for our customers and Benchmark. He consistently goes above and beyond to support customers and coworkers.
Gord Davison, Edson
Gord has been with Edson for more than 3 years and embodies all the hard work and dedication that a ProCustomer Champion requires. He consistently provides the extra touches that keep our customers' satisfied and their lines performing at a high level. He has also been at the forefront of Edson's involvement with cross-utilization of controls resources across Pro Mach.
Recently during an on-site retrofit, the customer made some after hours program changes that made the machine unstable. Gord remained calm and confident under pressure. Gord walked the project lead through several steps of code step by step, explaining the process. Within a few minutes of re-implementing the correct program, Gord had the case packer running flawlessly and gained the confidence of the customer project lead.
Gord willingly responds to customers at any time for any reason. He takes extra time upon his return to create highly professional and clear work instructions for customer and Edson use. Like a true ProCustomer Champion, he routinely works with customers to raise their technical knowledge and help them identify issues before they become a significant problem or cause downtime.
Troy Pater, Fowler Products
Troy, an 8-year employee of Fowler, is one of our most sought after service technicians. His integrity and ability to carefully analyze a situation and tenaciously attack it until it is resolved wins over even the most demanding customers.
A customer recently performed a major overhaul on one of their large 1,100 bottles per minute lines, but were unable to reach normal efficiency levels. Troy systematically made finite adjustments then rebuilt every head component ensuring it was performing properly. Troy identified the issue as a result of a supplier's cap. New caps were brought in from another plant. They performed flawlessly enabling the customer to meet their production needs as they entered their peak summer season. Here's what the customer said:
"I would like to commend Troy. Tremendous effort and professionalism throughout the project. Fowler should be proud of having a very competent, personable and professional field technician. The projects were a success due to his efforts."
His attention to detail and follow through strengthened our relationship with a valuable customer. He is a true ProCustomer champion.
Matt McPherson, ID Technology
Matt has been with ID Technology for more than 20 years. He treats every customer as if they were his only customer and recognizes the need for rapid, honest resolutions. Matt's selfless efforts have enabled him to build strong relationships with customers and employees. In addition to being a key service technician, he mentors other team members throughout the company.
Recently, a high profile 24/7 customer was experiencing technical issues with a new system during their late shift. Matt took the initiative to drive to the customer's location after midnight. The customer appreciated Matt's dedication, patience, and technical knowledge in resolving the issues. Here's what they said:
"Thank you for walking us through the steps and being so patient. No further issues this morning. Thank you very much for your help."
Many of our customers ask for Matt to be involved in all system installations and serve as the lead instructor for all technical product training. He is a dedicated service and support professional any time of day. He personifies the three major characteristics of our ProCustomer champions by being reactive, interactive and proactive.
Richard Conwell, Matrix
Rick has been with Matrix for more than 3 years. He is our go to guy for customers who want to push the production limits of their machines. He always seems to figure out how to coax new levels of performance out of every machine. He goes the extra mile in assuring customer's expectations are always exceeded and he accepts nothing short of perfection.
Rick consistently delivers wins for customers in demanding situations. Recently one our largest customers wanted to increase their number of bags per minute on an older machine. Rick increased the machine's production and performance, while also introducing the customer to new technology that would be more efficient and effective for them in the future. His professionalism and commitment to excellence have strengthened relationships with multiple customers and helped us grow several accounts.
You can always tell how the customer feels about a technician by the fact they routinely demand that technician. Many of our largest customers set up quarterly visits with Rick to fine tune their machines and share best practices because they feel his expertise and guidance is so valuable.
Companies in this article