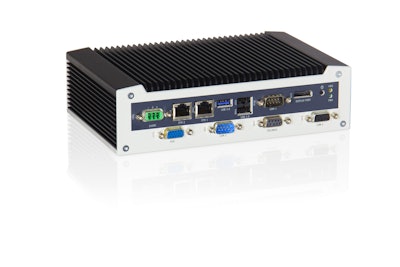 The design of the embedded box PC is very compact and, due to the powerful hardware, ideal for use in factory automation systems. The robust construction also means it is also suitable for use in the harshest industrial environments. The fan- and cable-free box PCs stand out due to a long service life and low power consumption. Long-term availability, no maintenance and a comprehensive service round off the product. What's more, the box can be equipped with industrial I/Os, field buses and/or industrial Ethernet interfaces. With the tried-and-tested "maintenance-free" design, the KBox A-103 does not require any additional batteries for operation, it is very reliable (high MTBF), easily adapts to customer requirements, and comes with extensive diagnosis functions such as Kontron's Embedded Application Programming Interface (KEAPI) 3.5. Developers benefit from a library of API functions, which provide hardware information on all new Kontron embedded platforms. These functions ensure the total cost of ownership (TCO) is kept to a minimum.
The new KBox A-103 is equipped with scalable SMARC modules, which have the latest Intel® Embedded-Power-Atom™ processors, up to E3845. The modular approach ensures simple upgrades to the next processor generation ("Forever Young") which are in line with changing performance requirements.
In order to keep the costs for customer-specific adjustments low while at the same time enabling changes to be implemented quickly and without any design risk or additional development costs, Kontron offers the "Modified Standard" (MoST). MoST is based on the use of proven building blocks, which provide all basic components (BIOS, hardware, firmware and middleware), and that enable a simple modification with a fast time to market.
With a wide range of functions and interfaces, the KBox A-103 is ready for the Internet of Things (IoT). Using the wifi options via the mini PCI interface and GPRS and LTE data transmissions via the optional SIM card slot, maintenance conditions and diagnosis functions can be retrieved quickly. This means users have visibility to potential problems when the box PC is used in a networked system. Furthermore, the box ships with up to two RS422/485 interfaces for digital, serial data transmission and additional I/Os for field busses.
With a wide variety of I/Os, such as 2x GB LAN, which also support IEEE 1588, 2x USB 2.0, 1x USB 3.0, 3x COM and additional interfaces like 2 x Mini PCIe and 1 x mSATA, the KBox A-103 is suitable for use with most embedded applications that require a compact design and low power consumption. The box PC supports up to 8 GB DDR3 RAM and offers space for storage media such as onboard flash, MSATA or SSD. In addition, the new KBox A-103 also supports a 10 to 30V DC input and can be used in areas with a temperature range of -20 to + 60 °C. The battery-free KBox IPCs also have a Gold Cap, which can provide the real-time clock (RTC) with power for up to 40 days in the event of a power failure.
Companies in this article