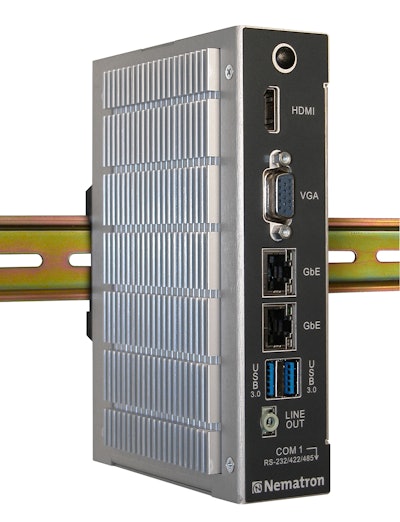 Continuing Nematron's mission of manufacturing quality, state-of-the-art industrial PC's, the nPC20 node offers a significant number of options that allow maximum configurability based on a customer's specific application needs. The nPC20 node is engineered with precision to the highest quality standards in the industry. These ultra-compact industrial node PCs can be used in many different applications, even Class I Division 2 Hazardous Locations.
The nPC20 gives users the choice of high performance Intel fanless processor options with the ATOM Dual Core E3826 1.46 GHz CPU or the ATOM Quad Core E3845 1.91 GHz CPU, and also the amount of DRAM from 2 GB up to 8 GB. Solid State drive storage starts with the base 80 GB and offers the larger 160 GB and 300 GB as options. The nPC20 supports dual video output via one HDMI port and one VGA Video port. The unit comes standard with 24 VDC power supply (10-30 VDC), while giving the user the option of using an AC power supply. Units can be installed with a Microsoft® Windows™ 7 Professional (32-bit) or Ultimate (64-bit) operating system. The nPC20 provides high-speed communication through dual Gigabit Ethernet ports, and also comes with the following standard I/O: two USB 3.0 ports, one Audio Line out port, and one Serial communication port (RS-232/422/485).
When it comes to mounting, the nPC20 is designed to provide a variety of options. The unit ships with mounting brackets for wall or shelf mounting. For enclosures, the nPC20 can be mounted via DIN Rail utilizing the side or back adjustable DIN Rail bracket which is also provided with the unit. Nematron also offers a custom bracket (sold separately) for mounting the nPC20 to the rear VESA holes on all M-Series displays, including the popular M1500SRT sunlight readable display.
"The nPC20 continues our mission of supplying superior quality, state-of-the-art Industrial PCs that are built and supported in the USA," explains Ralph Damato, VP – Product Management of Nematron. "With the number of configurable options and agency compliance certification, the nPC20 is a very competitive product in many manufacturing markets around the world," continues Damato.
The nPC20 offers two ThinClient configurations for booting to an ACP® ThinManager Enabled network or to a network via the PXE-Boot protocol. The nPC20 is rated for operation in 0°-55° C environments and will have UL and cUL 508 as well as Class I Division 2 and European CE approvals, making system integration a breeze for virtually any application and/or location.
Companies in this article