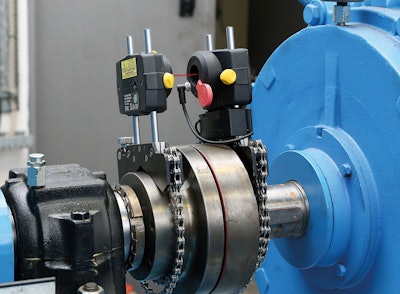 The RS5 sensor is a smarter, faster, and highly accurate sensor for the mid-range shaft alignment market segment. Its XL HD detector, combined with the powerful InfiniRange functionality makes its measurement range virtually unlimited, even over long spans of 10m (33 ft.). Its 5-axis technology makes it the only sensor in this segment to offer simultaneous Live Move tracking in both planes for machine corrections. This allows live monitoring of horizontal and vertical machine corrections at the same time, with the sensor at any rotational shaft position.
The powerful synergy between the new, faster CPU and the MEMS inclinometer ensures a finer and faster acquisition of misalignment data during a Continuous Sweep. Hundreds of measurement readings are automatically taken during shaft rotation, ensuring highly repeatable results even in harsh conditions with vibration and under unfavorable mechanical constraints such as coupling backlash. The RS5 sensor permits highly accurate results to be obtained with as little as 60 degrees of shaft rotation, starting and ending anywhere. Users can easily view and compare results in the results table that stores readings before starting with alignment corrections.
The integrated ambient light compensation makes accurate measurements possible even in strong, direct sunlight. New battery technology means reduced energy consumption for long laser and sensor runtimes in the field. Finally, the RS5 laser and sensor are fully waterproof, shockproof and dustproof for continuous service in the worst of industrial environments.

Companies in this article