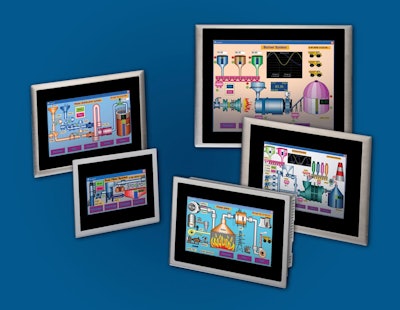 The CGHMI Series features ARM processors, wide panels, high resolution, 65,536 colors, 128MB ROM, 128/256MB RAM, WinCE operating system, and image optimization. The CGHMI Series screens are available in four sizes (4.3-, 7-, 10-, or 15-in), and can be mounted vertically or horizontally. They can be powered by 11-36VDC or 90-250VAC.
All models also offer an SD slot and Ethernet port as standard features. Extensive connectivity is possible via Profibus-DP, ProfiNet, DeviceNet, EtherNet/IP, CANopen, EtherCAT, and CC-Link. All models are delivered with CG Design Studio software, with the optional CG Design Studio Plus, which features Symbol Factory.
Technical specifications include: high-performance 7, 10 and 15 in models with IP65 aluminum bezels; harsh-environment 7, 10 and 15"models with rugged IP66K stainless steel bezels, protected against dust and water, with an easy-to-clean polished surface; high-resolution touch panels featuring 65,536 colors; standard 128 MB Flash memory and 256MB SDRAM; USB host port used for keyboard, USB stick and mouse; LED backlight for even-color displays and long lifetime; open WinCE 6.0 panels for OEM business; standard CG Design Studio software, with optional CG Design Studio Plus (featuring Symbol Factory and its 4,000+ high resolution symbols); optional sound output.
Companies in this article