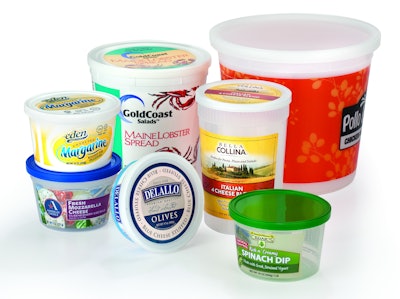 Founded in 1954 by Fred Weiss, Plastic Packaging Corporation (PPC) is a family-owned manufacturer known for its high-quality, injection molded Polyethylene (PE) and Polypropylene (PP) containers, cups, tubs, pails, and lids as well as its advanced decorating services for hot to frozen foods in the foodservice and food processing industries. "Looking toward the future, combining with Placon is the perfect fit for our customers and employees," said Susan Weiss Firestone, President.
"Acquisitions are an important part of our long-term growth plans," stated Dan Mohs, CEO, Placon Corporation. "Many of our customers use both thermoformed and injection molded packaging. By integrating these technologies, we will broaden our food packaging portfolio and provide our customers with more options and greater value."
Placon offers both custom and stock lines of thermoformed food containers in Polypropylene and recycled PET (RPET) materials. The company currently runs up to 100% post-consumer recycled EcoStar® brand material from bottles and thermoforms in its PET food packaging lines, an area where Mohs sees future opportunity in expanding the company's sustainability solutions to PPC's current and future product lines.
The transaction, the second in just two years for Placon, is indicative of the family-owned company's strategic plan to expand its breadth and depth of capabilities across multiple foodservice market segments. Similar to the 2011 acquisition of Barger, Placon targeted companies with similar core values and a customer-centric culture.
Continued Mohs, "For Placon, it's about people – our customers and employees. PPC came from similarly humble beginnings as Placon. The strong shared values and closely aligned mission are what makes this acquisition work. Like Placon, PPC is a second-generation, family-owned and operated business with employees who take great pride in the quality of products they produce and exceptional levels of service they provide. We're delighted to welcome PPC's 141 employees into the Placon family."
The 100,000 sq. ft. West Springfield, MA location will bring the total number of Placon operated facilities to 5, which includes the company's primary headquarters and EcoStar recycling facility situated at its Madison campus location, a distribution center in DeForest, WI, and its medical packaging operations headquartered out of Elkhart, IN.
Companies in this article