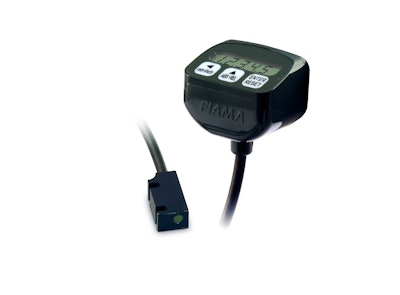 Programmable parameters consist of: linear or angular display; decimal placement; counting direction; metric or inch values (linear), angle value; function settings (reset/preset, absolute/relative value, tooling offset, etc.); and keypad enable/lockout.
The LCD display uses a 7.5mm digit height , which has a display range of-99999 to +99999. The compact shape of the indicator body, measuring 48 x 38 x 24 (mm), provides a small footprint. The indicator is powered by a commercially available 1/2AA battery. A battery indicator allows ample notification for battery replacement, and batteries last an average of four years. The battery may be replaced without loss of current position or program.
Two F7 varieties are available: an integrated sensor on the bottom of the display, or an external (cabled) sensor with a variety of cable lengths. The F7 has tapped holes in the back for panel mounting, or can be used with several available mounting options such as a flanged, bracketed, or swivel supports. The compact unit works in conjunction with FIAMA's magnetic band (linear/partial arc) or magnetic ring (angular).
Companies in this article