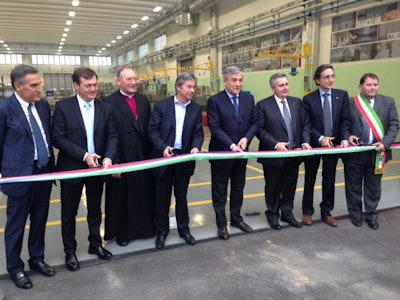 The opening ceremony for the new Marchesini Group facility, which took place in front of the corporate headquarters, was attended by 2,500 people including Antonio Tajani (Vice-President of the European Commission), Vasco Errani (President of the Emilia Romagna Region), Massimo Scaccabarozzi (President of Farmindustria), S. E. Bishop Ernesto Vecchi (Auxiliary Bishop Emeritus), and Gabriele Minghetti (Mayor of Pianoro).
The new facility - which cost about 7.5 million Euro - represents the company's latest challenge: to keep investing substantial resources despite the serious difficulties that the Italian economy is facing. In his opening speech, Maurizio Marchesini, CEO of the Group and Regional Chairman of Unindustria said: "Not only is the new facility a company asset,, but also proof of our confidence in the future, an attitude that we have always had."
Marchesini Group's objective is to continue to grow worldwide without losing contact with the roots that made it the spearhead of the so-called Packaging Valley in Emilia Romagna Region.
Companies in this article