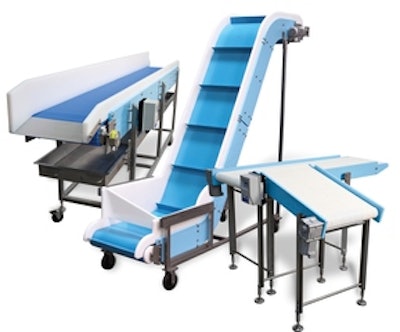 Manufactured using HDPE, UHMW and minimal 304 stainless-steel allows DynaClean food processing conveyor systems to be competitively priced in the food processing market. HPDE is a durable plastic material approved by the FDA, USDA and NSF and is used to manufacture the food grade conveyor sidewalls. Being corrosion resistant, non-toxic, non-absorbent, temperature resistant, blue in color, and less costly than stainless steel makes the HDPE material an ideal choice.

The patent pending design of the DynaClean allows for quick and easy cleaning and sanitation. Without the need for tools, components can be removed in a matter of minutes giving complete exposure to the inside of the system. "The DynaClean is a very open design with no place for anything to hide and is much easier to clean. We can do that with one person much faster than how we used to do that," says Scott Thibault, President of J&M Foods in Little Rock, Arkansas. "It is easy to break down, lift off the retaining walls, lift out the rollers, clean underneath it, pressure wash it or dry wipe it and put it back together. It takes half the time it did with the old system."

Environments that find it necessary to change frequently will benefit when purchasing DynaClean food processing conveyor systems. The DynaClean system allows for configuration changes, which permit angle changes and the length to grow or shorten without compromising the integrity. The versatility of the DynaClean food grade conveyor allows for single, continuous conveyors to run straight, incline and/or decline while utilizing just one energy-efficient motor.

Both ThermoDrive solid belting and modular plastic link style belting is available, including a choice of drive flights. Belts are specified to meet the needs of wet, dry or sticky foods. Two options of maintenance-free wash-down motors are also available and can be selected based on the desired ease of cleaning.

"The DynaClean is efficiently designed," says Thibault. The patent pending design allows for savings to start with the initial investment and continue with short downtimes for cleaning, energy efficient maintenance-free motors and the ability to reconfigure when needs change.

In business since 1991 in Muskegon, Michigan, Dynamic Conveyor has been a source of innovative custom conveyors for parts manufacturing. With a line of plastic reconfigurable custom conveyors that allow for flexibility and sustainability, Dynamic Conveyor has been providing alternatives to traditional systems that cannot be modified without great expense.

For more information and a closer look at DynaClean conveyors, please visit Booth #5341 at Process Expo. After the show, call 1.800.640.6850 or visit www.DynamicConveyor.com for more information and to view videos.