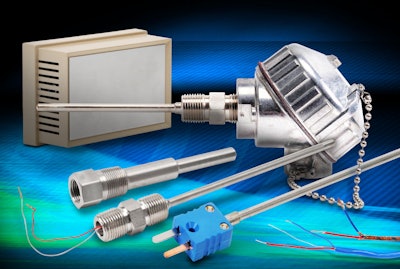 ProSense room temperature sensors feature a temperature sensing range of -40 to 185 degrees F, are constructed with ABS plastic ventilated covers, metal wall mounting subplates, and an internal terminal strip for wiring connections. The ambient temperature sensors can be mounted horizontally or vertically and are available in Type J thermocouple and Pt100 type RTD versions.
Type T thermocouples are designed for applications requiring lower temperature measurement. Available in attached plug and heavy-duty lead wire models, and in 6, 12, and 18-in. probe lengths, the 1/8-in. diameter probes feature a temperature sensing range of -328 to 700 degrees F. Type T thermocouple extension wire is now available in 50, 100 and 200-ft. lengths.
Additional Type K thermocouple probes with higher temperature measurement are now available. The ¼-in. diameter probes are fitted with Inconel Alloy 600 sheaths to protect against harsh environments.
RTD adjustable immersion sensors, with a temperature sensing range of -58 to 572 degrees F, feature a 100 ohm platinum 3-wire element and is spring adjustable, allowing for variable immersion depths. The integral bayonet cap makes installation quick and easy when used with a bayonet adapter or pipe clamp adapter.
Companies in this article