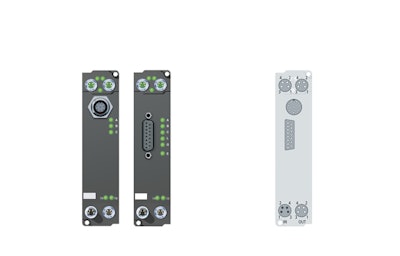 Due to the optional interpolating micro-increments functionality, the moisture and dust-resistant EP5101 can supply even more precise axis positions for dynamic axes.
The compact EP5101 EtherCAT Box, measuring only 126 x 30 x 26.5 mm (H x W x D), is particularly suitable for applications where electrical cabinet space is limited. In addition to stepper motor and DC motor box modules, which are also equipped with an encoder interface, stand-alone encoders for the measurement of rotation and length can also be directly connected in the field using the EP5101 incremental encoder interface. The EP5101 supports any feedback system with an RS485 interface. The encoder is connected either via an M12 socket (EP5101-0002) or via a D-sub interface (EP5101-0011).
A 32-/16-bit counter with quadrature decoder as well as a 32-/16-bit latch for the zero pulse can be read, set or activated. Incremental encoders with a fault signal output can be connected to the status input of the EP5101. A period measurement with a resolution of up to 100 ns is possible. The gate input allows the counter to be disabled; the latch input accepts the counter reading on the rising edge.
Companies in this article