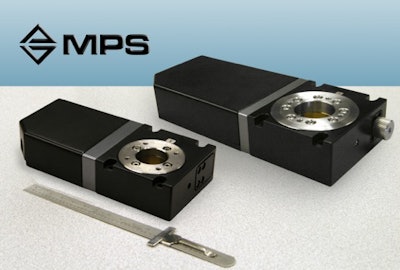 The MPS50GR and MPS75GR are engineered for the confines and requirements of a laboratory or research and development setting. MPS-GR stages are suitable for optics, measurement, alignment, inspection, and other similar applications.
MPS-GR stages incorporate precision worm-gear drive and bearing components for accurate and repeatable positioning. They are available with DC servo or stepper motors and either a 20 mm (MPS50GR) or 30 mm (MPS75GR) clear aperture. The clear aperture allows the MPS-GR series to address applications requiring a through-hole or accommodations to mount an optic, including articulation of beam polarizing lenses, through-holes for cabling or air lines, or vision/camera/inspection applications. The DC servomotors for the MPS-GR stages are equipped with a square-wave rotary encoder and the MPS75GR includes a manual adjustment knob.
The MPS-GR rotary stages provide performance of up to 80 arc seconds accuracy, 1 arc second resolution, 6 arc seconds repeatability and 180 degrees per second maximum speed. Top load capacity is 12 kg and tilt error motion is 40 arc seconds.
Both stages are available with optional vacuum preparation to 10-6 torr including a vacuum-rated motor/feedback connector. An optional breadboard mounting plate provides direct mounting to both English and metric optical tables and a Lens Mount Option (LMO) permits easy mounting of standard lenses over the stage aperture.
The MPS50GR and MPS75GR are members of Aerotech's MPS (Miniature Positioning Stage) family of linear, rotary, goniometer and vertical-lift stages. It is easy to mount two or more stages together in numerous combinations using standardized mounting patterns with adapter plates and brackets.
Companies in this article