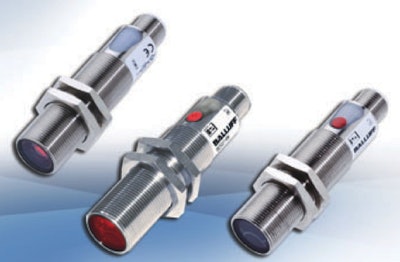 Common to all the sensors is the uniform, rugged metal housing, providing design freedom and allowing red light and infrared types to be easily interchanged. The new LED technology and modern Fresnel lenses ensure sharp contours which precisely reproduce the switching area. This means the sensors can even be used in daylight or strongly illuminated indoor areas and can be quickly and precisely aligned.
With their exact switching response and repeat accuracy, the BOS 18M sensors are suitable for demanding positioning tasks. Optical band-pass filters provide extremely high ambient light rejection from sunlight or other artificial light sources.
All red light and infrared models feature a potentiometer for precise setup. Adjustment is also aided by highly-visible LED indicators. For users who prefer the teach-in procedure for setup, the red light sensors (energetic diffuse, retro-reflective and thru-beam) are available in corresponding versions.
The BOS 18M sensors are said to be the only sensors of their kind to be equipped with a sensitive multi-turn potentiometer for setting the distance down to millimeter accuracy. The range of up to 300mm is also reliable when the target is a dark object. Sensors also feature very low gray value shift at close range (~1% at 100mm). This enables color-independent object detection even against reflective backgrounds.
The BOS 18M easily senses objects with notches, holes or cut-outs since these gaps are simply bridged by the large light spot. This allows even coil springs for example to be reliably detected regardless of orientation.
Companies in this article