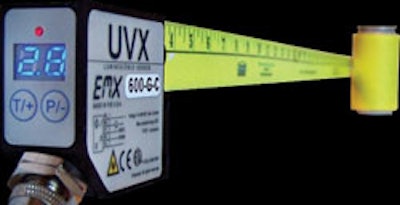 The UVX-600 Luminescence Sensor detects the presence of luminescent materials such as grease, glue, labels, wood, thread, rubber, paint, UV ink, UV crayon, and more. The UVX is said to confirm manufacturing processes more reliably than vision systems that cost ten times more.
The unique 2-digit numerical display shows the intensity of each reading, making it easy to refine processes and hysteresis. The sensor provides 6 to 12 times the range of any competing luminescence sensor, according to the company, and the UVX won't get bumped or dirtied by target.
The detector comes with both auto-teach and manual calibration, which is easy for low-skill operators, but can be finely tuned. Adjustable UV light projection and high resolution allow pin-head size detection. Features fast and convenient integration, and both analog and discrete output, auto-detect for PNP/NPN. A calibration function is also featured.
Companies in this article