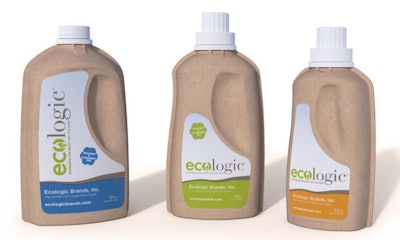 The Institute of Packaging Professionals held an awards reception and dinner in Rosemont, IL, outside of Chicago, on May 22 to honor those packages designated as winners of the 2012 AmeriStar packaging awards competition. More than 150 packages were submitted this year for IoPP AmeriStar awards consideration. Judges evaluated and analyzed packages from 18 categories at IoPP headquarters in Naperville, IL, in February. Student AmeriStar entries were also judged at that time.
Top AmeriStar winners included the Best of Show Award, the 3M Sustainability Award, sponsored by 3M and, new for 2012, the Design Award for excellence in structural and graphic design. Judging was based on package innovation, sustainability, protection, economics, performance, and marketing.
This year, the Best of Show award winner was also honored with the 3M Sustainable Packaging Award. The package, from Ecologic Brands Inc., is a molded fiber bottle, which gained much recognition in 2011 with its commercial launch by Seventh Generation. The award was presented to Ecologic's new line of stock eco.bottle™ packaging.
The winner of the debut Design Excellence Award
is a "skyscraper" design bottle for Roxor Artisan Gin, from TricorBraun. The design improves upon generic rounds and squares used for many gin bottles, taking into account all the possible sales points for the product, including both retail sales and back-bar displays.
At the dinner, IoPP also announced the People's Choice Award, which was selected by dinner guests during the cocktail hour from among all the year's winners. Taking home this award was Pepperidge Farm, Inc. for its Deli Flats thin Rolls & Goldfish Sandwich Bread (Flats) package, a resealable pouch format with improved barrier properties for some of Pepperidge Farms' bread products.
Other AmeriStar winners by category:
CATEGORY: Automotive
3M Automotive Car Care Products, from TricorBraun
CATEGORY: Beverage
• The Brew Shield™,
 from Royal-Flutes LLC


• The Bottoms Up vertical case pack system for wine bottles
from Grafcor Packaging

 and UFP Technologies
• Starbucks VIA Ready Brew, from Starbucks Coffee Co
CATEGORY: Electronics
• Ten and Fifty Packs of HDMI Connectors, from Greenlee Textron, Inc.
• Skullcandy Supreme Sound, from Skullcandy
CATEGORY: Food
• FreshBox™ line of packages, from Display Pack, Inc.
• PET can for Fisher Deluxe Mixed Nuts, from Selig Sealing Products
• Quaker Oatmeal with Easy Pour Spout, from PepsiCo/Quaker
• Pepperidge Farm Deli Flats thin rolls & Goldfish Sandwich Bread (Flats), from Pepperidge Farm Inc.
• Two Piece Display-Ready Asparagus Shipper, from Gourmet Trading Company
• Gatorade Prime Performance Chews, from PepsiCo
CATEGORY: Food, Institutional
• Chicken McBites carton, from HAVI Global Solutions
• Cryovac® Next Gen Boneless Beef Bag (B6620), from Sealed Air, Cryovac Division
• The Bagel Bucket, from HAVI Global Solutions
CATEGORY: Health & Beauty Aids
• Schick Intuition Naturals, from Energizer Personal Care - Schick & Wilkinson Sword
• Maybelline New York, SuperStay 24™Color, from HLP Klearfold
• ASR/Schick 5 Blade Disposable Razor for Men & Women (Private Label), from Transparent Container Co., Inc.
• Burt's Bees Natural Personal Care Product Kits, from Clorox
CATEGORY: Household Products
• Valspar Spray Paint, from Webb deVlam
• Ecologic Brands Inc. - Molded Fiber Bottle, from Ecologic Brands Inc.
CATEGORY: Medical Device
• Thoratec HM2 tray set, from TEQ
• Cook Urological, from Prent Corp.
• SmartPrep2/BMAC, from Sealed Air Corp.
CATEGORY: Other Retail
Sustainable Two Piece for fly fishing lines, from Plastic Ingenuity
CATEGORY: Outdoor & Gardening
Scotts Snap Spreader System, from The Scotts Company
CATEGORY: Pet & Vet
Lickety Stik, from TricorBraun
CATEGORY: Promotional
The Coca-Cola Party Tub, from CCNA Packaging Development
CATEGORY: Regulated Packaging
Aerosol Twist & Spray Cap, from Valspar Corp.
Student AmeriStar Winners
Student AmeriStar Winner- 1st Place 
CATEGORY: Food 
Package: Squeezable Salsa Container
 School: University of Wisconsin-Stout


Student AmeriStar Winner - 2nd Place 
CATEGORY: Other Retail 
Package: Airless Kicks
 School: University of Wisconsin-Stout


Student AmeriStar Winner - 3rd Place
 CATEGORY: Promotional 
Package: Stringy Solution 
School: University of Wisconsin -Stout


Student AmeriStar Winner Honorable Mentions
• CATEGORY: Beverage 
Package: Project: Moderate Shots
 School: University of Wisconsin-Stout


• CATEGORY: Electronics
 Package: Illuminate: Solar Powered Paperboard Cell Phone Package
 School: Clemson University
• CATEGORY: Other Retail 
Package: Adidas Chargers Shoe Box
 School: University of Wisconsin-Stout
Companies in this article