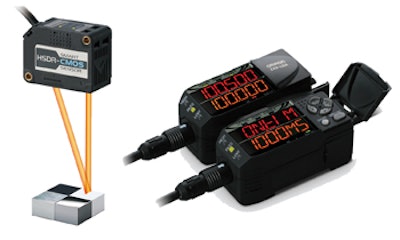 A Smart Tuning Key provides one-touch setup by matching the sensor to the surface property: metals, substrates, elastomers, and transparent materials. The ZX2 continually monitors the received light level and adjusts the laser diode output to compensate, all in a cycle time of 60 µs, supporting applications with multiple mixed work pieces or varied work piece surface conditions. A simple menu of options eliminates complicated manual settings and time-consuming parameter adjustments. The IP67-rated ZX2 sensor heads deliver precise measurements with a resolution of 1.5 µm or 5 µm (model dependent), even under harsh environmental conditions. The separate digital amplifier offers an 11-segment LED display for articulated messaging and monitoring, and four settings banks to shorten changeover between production runs.
The ZX2 is suitable for a variety of simple distance measurements, and offers the capability of linking up to five sensors with a calculating unit to measure thickness, width, and warpage between any two sensors. In-line inspection applications, using multiple sensors, include curvature detection on plates and height difference measurements carried out on passing objects. The ZX2 sensor heads, employing a safe FDA Class II laser, are encased for IP67 protection, and come pre-wired with robotics cable for installation on moving sections of machinery.

Technology Advantages

The ZX2 uses a newly developed High Speed & Dynamic Range (HSDR) CMOS image sensor to provide stable measurement on any surface, ranging from highly absorbing to highly reflective, without loss of accuracy. Sensing heads are available with spot beam for micro-scale objects and with line beam for rough-surfaced objects. Internally, a UV bond is used to fix the optical components rather than screws to control stress and ensure a temperature characteristic of 0.02 percent FS/°C. This means that if the ambient temperature varies 1°C, the measured value varies 0.02 percent FS (corresponding to only 4 µm for the Model ZX2-LD50). Key features include:

• One-touch setup
• Resolution: 1.5-5 µm
• Measures any surface color or condition
• High speed: 30 µs
• IP67 protective structure allows use even when exposed to dust or water
• Robot cable used as standard between the head and amplifier allows reliable and safe use of the sensor within the moving parts of machinery
• Resin-cased, small CMOS laser sensor head enables installation virtually anywhere, including in narrow spaces or ceilings
• Compact sensor head minimizes measurement errors arising from temperature fluctuations
• Higher accuracy measurement possible for applications that do not require the entire measurement range
• Linearity accuracy is improved by 50 percent if the range of the field is less than the length of the measurement center
• Calculated results of two sensors are displayed on the amplifier by just connecting the calculating unit between the two amplifiers
• Calculation function can be chosen from two modes of thickness and subtraction
• Mutual interference can be prevented by coupling via the calculating units

For further information on ZX2 laser sensors, click here.