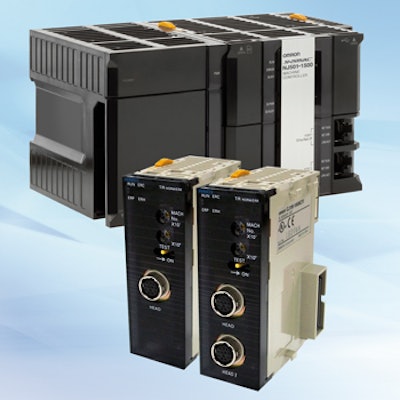 The CJ1W-V680C11 units use Omron's robust V680 industrial RFID tags (data carriers), read/write heads (antennas) and cabling. Each PLC-based controller can support one (CJ1W-V680C11) or two (CJ1W-V680C12) read/write heads. Multiple CJ1W-V680C controller units can be mounted on the CPU rack or expansion rack.

Initiating data reading and writing simply requires setting parameters in the PLC memory area. Configuration of the RFID Controller is much simpler compared to serial communication, and the reduced programming load allows faster data processing. The Function Block (FB) library in CX-One software contains functions blocks that facilitate communication with RFID system components.

With more than 25 years of experience integrating RFID systems with automation systems for automotive, semiconductor, and general manufacturing customers, Omron brings advanced identification and data exchange capabilities within reach of machine builders using the Sysmac NJ Machine Automation Controller and CJ and CS series PLCs. Typical applications include:

• Managing process instructions and histories for engine manufacturing
• Managing manufacturing process traceability
• Managing the manufacture of semiconductors and photovoltaic cells
• Managing dies, die histories, and die service lives
• Managing access to prevent cross contamination in food processing operations

The V680 Series can be used in many parts of the world because it meets the requirements of radio wave regulations in Japan, Europe, the U.S., Canada, Mexico, Singapore, Malaysia, the Philippines, China, Hong Kong, Taiwan, and Korea. They communicate data over the 13.56-MHz frequency band. The V680 RFID system complies with FCC standards and R&TTE directive as well as ISO/IEC 18000-3 (ISO/IEC 15693). A broad array of ultra-compact, long-life ID tags with capacities from 1 to 32 kb is available.

For further information on the V680 Series controllers, click here.