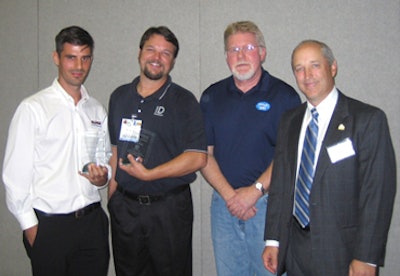 Primary Packaging Business Unit:
Jonny Watkins, Allpax
Jonny Watkins is a man of many hats for Allpax and its customers. In addition to being a top-notch service technician, he has been head of software development for more than eight years. He has developed multiple food safety and processing software products to benefit customers and help make Allpax a leader in the industry. His coworkers and customers say he is truly a rock star in the retort processing world. His consistent level of production, customer skills and business acumen sets a high standard.
In the past 3 months Jonny personally managed start up of three back to back customer installations, requiring him to be on the road for several continuous weeks and weekends. All three projects were important firsts for Allpax, the first full production Shaka retort system; a new customer project for Riviana; and a first installation for Nestle's food sector
His work ethic and commitment to excellence received accolades from each customer, with comments such as: Allpax hit a home run on this start-up, from Nestle. One of the reasons we selected a U.S. manufacturer is due to the level of quality service we need for this line. Allpax has confirmed this was a good decision, from Riviana.
Jonny's high level of customer service and "whatever it takes" attitude has earned him the respect of his peers and our customers. He accepts nothing short of perfection before signing off on a startup. He is a true professional.
When he's not serving our customers, Jonny spends his free time with his wife and son.
---
End-of-Line Business Unit:
Joe Busha, Wexxar Packaging
Joe Busha is a service technician extraordinaire for Wexxar Packaging. Our customers repeatedly ask for him by name because of his willingness to go above and beyond in helping them achieve peak performance from their packaging operations. His professionalism and commitment to excellence have helped Wexxar strengthen relationships with multiple customers and grow several accounts.
Recently Joe received an emergency call from a customer in Louisville, whose line was down. He was needed ASAP. Joe who just completed another customer call that morning in Chicago drove to Louisville because flights would not get him there by the afternoon. He had the customer up and running by 2nd shift, preventing an entire line shutdown. He also improved throughput from 1200 cases per shift to about 2600 cases per shift. The following day Joe returned to the customer and upgraded the machine's software which further enhanced performance. The customer wants Joe to return and provide additional training and support and has indicated that Joe's outstanding service is a major factor in their decision to install additional lines with Wexxar equipment next year.
Joe has a knack for making customers feel as if they are our only customer. His selfless efforts have enabled him to build strong, trusting relationships with our customers and his peers.
Joe has been married for 35 years and has three grandchildren, with a fourth on the way. He has two daughters and a son. He spends his spare time with his grandchildren.
---
Identification and Tracking Business Unit:
Tim Crone, ID Technology
Tim Crone has been a service technician with ID Technology for more than 16 years. He consistently demonstrates the ability to tackle challenging applications and deliver wins for our customers. His commitment to excellence, strong technical skills and ability to relate to the customer make him a go-to-guy in any situation.
Recently, a customer needed a turnkey solution to print and apply corner wrap labels at high speeds. The customer intended to provide their own operator interface to select and preview the label and generate the design. However prior to testing, Tim discovered the customer hadn't developed the interface. He quickly stepped in, developed the label designs and custom front end. This front end along with the rest of the system is now installed on four production lines at the customer's flagship facility. These machines apply approximately 100,000 labels per day, 7 days per week. Following the install, Tim has worked with the customer to develop routine preventive maintenance. The uptime projection for the customer has been far exceeded.
Tim's, positive attitude, attention to detail and follow through have enabled him to build a solid, trustworthy reputation where customers routinely ask for his guidance. He recognizes the need for quick, honest responses and quality service. He has helped make our customers advocates for ID Technology.
Tim has been married for more than 20 years and has two teenage sons.
Companies in this article