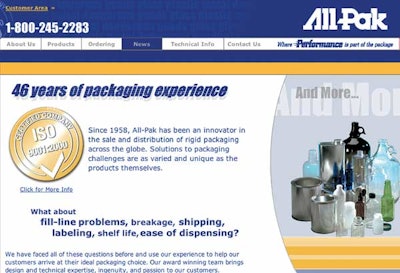 All-Pak, Inc.
Redesigned site provides an updated and more modern interface for visitors. Site includes product information, "quick-click" navigation, a new personal care section, and an expanded dangerous goods section.
Danaher Motion
New, fully integrated Web site has every product manufactured by Danaher, including information on customization, integration, and system solutions for end-users and OEMs. Site is available in multiple languages for global support.
First Choice Packaging
This new Web site has an intuitive navigational system and functionality that allows visitors to quickly find the information they need. The new design is visually stimulating, yet simple and informative.
G-3 Enterprises
This easy-to-navigate site offers its visitors an array of packaging solutions from the four-division company. The homepage can be browsed by clicking photographs, icons, or text. Customers may automatically e-mail to "Get Price Quotation" from all four divisions, or request a brochure.
GretagMacbeth
The company's InkFormulation Solution is now available in a centralized, consistent ink-formulation database over the Internet. This InkFormulation 4.2 software gives customers fast access to ink recipes, helping them streamline their production process for any spot color.
Symbology, Inc.
This expanded Web site allows info-seekers to find more information on the types of products offered and details about each product or service. A new navigation layout also makes the site easier for visitors to browse for general or specific bar code data.
Companies in this article