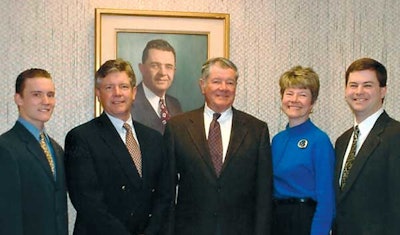 , manufacturer of stock, custom decorated, and industrial metal packages, is celebrating its 75th anniversary. Above, standing from left to right are Ryan Huether, Rick Huether, Doug Heuther, Cathy (Huether) McClelland, and Bob McClelland.
Cal Poly established a memorial endowment in honor of Graphic Communication Professor Hank Apfelberg.
Multivac Inc. received the Hormel Foods Spirit of Excellence Award for supplying Hormel Foods with innovative, cost-effective packaging solutions for a wide range of its product lines.
Di-Na-Cal Label Group received the Supplier of the Year award from Diamond Products.
Companies in this article
Videos from Independent Can Co.