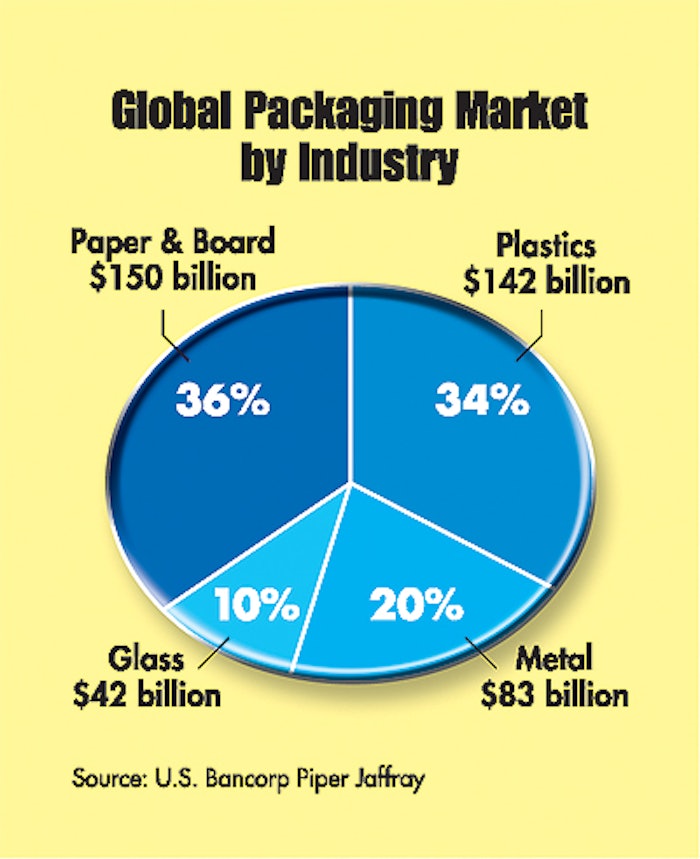 That's according to U.S. Bancorp Piper Jaffray's (Minneapolis, MN) M&A Insights report.
In 2002, the research group logged 248 packaging transactions with a total value of $17 billion. The number of transactions dropped by 20% from 2001, and by one third from the historical high (370) reached in 2000. The total value of the activity was down 21% from 2001, and 75% from the $66.5 billion total in 2000. As has been the case in the last few years, the majority of acquisitions were foreign companies. Paper and plastics packaging companies were the targets of 58% of the transactions in 2002, which the report says is consistent with activity reported during the last few years.
In its overview of the packaging market, the report estimates that the global packaging business is a $417 billion market, classified into four different material types: paper and board, plastics, glass, and metal. North America, the report says, comprises about 29% or $119 of the total.
Looking ahead, U.S. Bancorp expects continued consolidation, especially in the paper and plastics sectors. But it also says that private equity firms, with uninvested capital of more than $120 billion, will continue to participate in M&A activity in packaging. Among the company characteristics most desired by acquirers are relationships with marquee customers, activity in attractive end markets, high value-added or high-growth products, leading design capability, and efficient manufacturing facilities. —AO