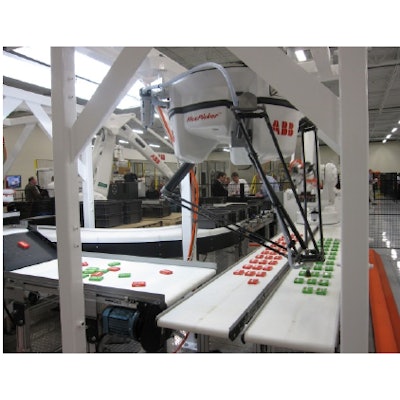 ABB Robotics (www.abb.com/robotics) hosted on April 22 and 23 an open house for 500+ current and prospective customers and select members of the trade press at its 55,000-sq-ft Auburn Hills, MI, U.S. headquarters training center.
In addition to another day for employee family visits, the 2-day industry portion included 75 educational sessions along with demonstrations of operating robots, including the IRB 360 FlexPicker, ABB's faster second generation of Delta robot. With a 40% improvement in work envelope, the 360 succeeds the IRB 340 FlexPicker, which boasts 2,500 installs, according to Rick Tallian, ABB market development manager. The 360 is available in three USDA-approved basic versions and can be seen in this Packworld.com video.

Tallian noted that the Pepperidge Farm plant in Downingtown, PA, replaced its 20 robots with eight newer ABB robots that can pick-and-place enrobed biscuits (cookies) at 180 cycles/min.
In one presentation sprinkled with case study examples, marketing vice president Ted Wodoslawsky made a persuasive argument on how the appropriate application of robotics is lean by improving safety and saving on motion, time, labor, and costs. He cited the Great Canadian Bean Co. where robots hoisting 25- and 50-kg (55- and 110-lb) sacks of dried beans reduced workplace injuries to zero.
In one recent business-related development, ABB personnel pointed out that the patents expired in 2008 for the FlexPicker Delta-style robots ABB has licensed from the Swiss lab that invented them. This has opened up the market to any companies wanting to enter the market. "But we've had a head start on them with 40 years' experience," said Peter Cuypers, ABB's Belgium-based global segment manager.
Joe Campbell, ABB's vp of sales and marketing North America, told us that the U.S. draws 86% of ABB's sales in North America. He says the recession has dampened purchase orders for robots, but not in instances where end users can clearly identify using them to enter a new market or add new customers. A number of customers are readying themselves for an economic upswing, he adds.
Among the developments that were highlighted:


ABB Remote Service is a wireless remote diagnostics tool that can provide 24/7 monitoring of problem solutions. It's akin to installing a cell phone inside the control box (device shown in red circle in image) to provide instant alerts of stoppages along with error codes to speed troubleshooting. The program is purchased as a single or multiyear service agreement that can pay for itself by preventing one service call visit.
SafeMove, a software and electronics-based safety controller integrated in ABB's IRC5 robot controller. SafeMove provides supervision of robot motion to reduce the need for traditional safety equipment such as light curtains, safety relays, mechanical stops, mechanical position switches, and protective barriers, allowing organizations to save money on installation and maintenance.
ABB preferred partner and integrator QComp Technologies (www.qcomptech.com) displayed its second-generation, more compact robotic palletizer that arrives pre-assembled and can be installed in a day. The ABB IRB 260 four-axis-robot-based system offers packing rates to 15 cases/ min done one at a time. The skid-mounted unit ships in a standard truck. An optional automatic pallet dispenser is available. The first of the new lean palletizing systems has been installed at a major packager, disclosed QComp president Tom Doyle.

There was even a literal Hollywood feel to the festivities: An ABB robot featured in the "Terminator Salvation" movie releasing in May was on display. Just like human actors, the ABB robots received a makeup job, covered with black soot to appear as if they had been in rigorous use for an extended period in dingy conditions. These are the robots that build the nasty Terminator models that threaten John Connor, aka actor Christian Bale, and other humans in the movie.


Companies in this article