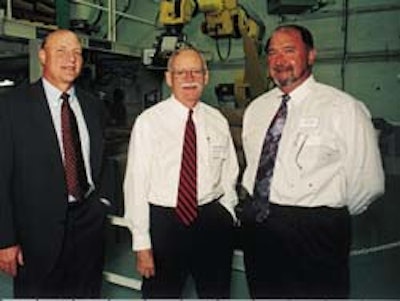 —Paxar Corp. (White Plains, NY) announced that its Miamisburg, OH, facility was named one of the 10 best plants in the country by "Industry Week" magazine.
—Packaging Concepts & Design (Madison Heights, MI) has been named Contractor of the Year by New Horizons Rehabilitation Service, Inc. for its commitment to training and rehabilitation of people with disabilities.
—West Pharmaceutical Services (Lionville, PA) has received the Outstanding Supplier of the Year award from Pharmacia & Upjohn.
—Graphic Packaging Corp. (Golden, CO) has been recognized with awards from Coors Brewing Co., Hormel and Kraft Foods Inc.
—J. Edward Woods, CEO of Gulf States Paper Corp. (Tuscaloosa, AL), has been recognized by The Paperboard Packaging Council with its 2000 Robert Gair Award.
—Liberty Carton Co. (Minneapolis, MN) has been named Supplier of the Year by Lubrication Technologies, Inc.
—Alcon Tool Co. (Akron, OH) was honored by 3M as its only qualified knife supplier.
—ISO 9002 certification: Tufco Technologies, Inc. (Dallas, TX), for its Green Bay, WI, site.
Companies in this article
Videos from Graphic Packaging Intl.