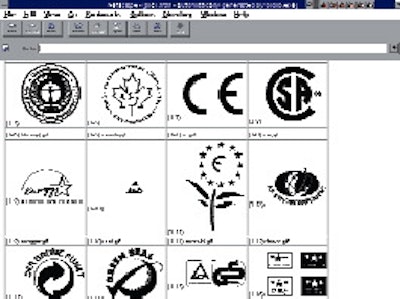 The hype of the Internet has come to the field of packaging. But a packaging engineer at Hewlett-Packard believes colleagues and suppliers alike must look beyond the hype to recognize what the Internet, and by extension, information technology, can do for them.
For Paul G. Russell, packaging program manager at HP's corporate headquarters in Palo Alto, CA, the value of the Internet starts with one of its lowest-tech, though most-used, features: electronic mail. His job is to support HP's 317 packaging people at 92 plants worldwide with information on regulations, design trends, company guidelines, and research. "The main vehicle I use to communicate with these people is e-mail," says Russell. "HP distributes more information electronically than we do hard copy."
In addition to simplifying internal communications, e-mail can be useful in communicating with suppliers as well, says Russell. "I'd rather shoot off an e-mail to five suppliers versus having to call or meet with them. I'd rather just say 'Okay, here's the job I want you to bid on, get back to me in five days.'"
A site for sore eyes
The World Wide Web, the Internet's graphical point-and-click "front end" that has made the network easy to use for millions of users worldwide, has practical applications for both packagers and suppliers, as Russell sees it.
For starters, HP uses an internal web site to distribute its standards, specifications and resources electronically to its far-flung manufacturing operations via an internal network known as an intranet. "We update specs on the fly so that plant-level packaging people always have the most current version at their fingertips," says Russell.
For example, HP maintains a comprehensive library of graphic logos, symbols and artwork that plant engineers can download from the internal web site via the company's intranet. They can then use the downloaded graphic as original artwork for packages. "Engineers are always screaming for artwork," Russell says. "They'll say, 'What's the CE mark look like and where can I get a copy of it?' Now they can go to our web site and download a copy of it in any graphical file format they want."
HP also has an external web site for packaging (http://www.corp.hp.com/publish/talkpkg). It contains, among other items, the company's packaging specifications to be used by OEM suppliers of components that HP resells. Russell explains: "We might say: 'We want to buy this widget from you, and we want you to pack it according to our spec; if you want a copy, get it at our web site.'" Making such detail-usually considered by companies to be proprietary-publicly accessible is unusual, notes Russell, since it's available to competitors. But this serves the industry overall, he believes.
Packaging machinery and material suppliers should get in on the action as well, says Russell. "Put a web site up!" he exhorts suppliers who haven't already done so. "I don't want to have to maintain information about you. I want you to maintain information so I can go access it. What are your capabilities? Who is your design engineer that I can contact directly? Do you have a research arm?"
Russell complains that today's supplier web sites fall short of the mark of what's possible. More often than not, a typical supplier site "seems like just a general advertising page that says call this number if you want someone to provide you with technical data and so forth." Not enough, says Russell. "If I'm doing research, I'm looking for more hard-core data. I want to be able to grab the information right then." Russell envisions using the Internet as a sort of yellow pages, where packagers can research supplier capabilities and assemble a short list of potential suppliers. He acknowledges that nothing can replace the face-to-face meetings required to consummate the details of a deal.
Russell admits that many of HP's suppliers have yet to get on the digital bandwagon. Many, he says, are dragging their feet until their customers demand it. Still other suppliers have told Russell they don't want to make detailed technical data available to their competitors. Though he acknowledges these are valid concerns, he remains convinced that the Internet will become a critical tool for communicating with suppliers in the future. He sounds a warning to those suppliers who have yet to get wired: "Get dialed into this technology. If you don't have computers and e-mail accounts, it's going to be increasingly difficult to do business with our company."
Companies in this article