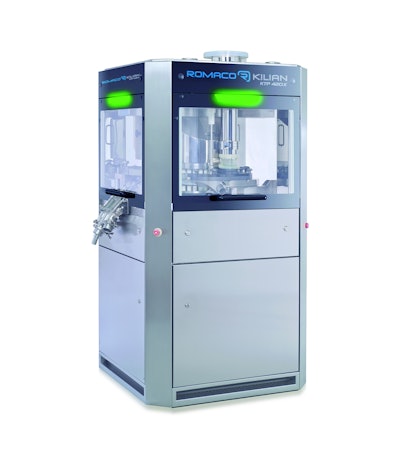 Romaco is a global supplier of processing and packaging equipment, predominantly for the pharmaceutical industry. The company is divided into three business areas, processing, tableting and packaging.
For example, Romaco Kilian's KTP420X high speed tablet press (shown here) comes with a new design concept called, "cool, fast & clean."
"Cool" describes all measures that keep the temperature in the process area below 30°C. The KTP series is ideal for processing temperature-sensitive medications such as Metformin or Ibuprofen. Special compression rollers, bolts and bearings reduce mechanical friction to a minimum. At the same time, the efficient cooling of the V-ring seals and drives avoids unwanted heat.
"Fast" stands for the optimized retooling and cleaning times of the rotary press. The number of product-contacted format parts has been systematically reduced and access to the various components is now easier than ever. With a maximum output of 360,000 tablets/hr, the Kilian KTP420X functions as a high-speed press.
"Clean" refers to the hygienic design, which improves product quality and process reliability. The strict separation between the compaction and service areas prevents tablet dust from entering the machine compartment during the production process. The patented bellows protect the tablets from contamination with lubricants during compression. The excellent OEE (overall equipment effectiveness) and TCO (total cost of ownership) values are key characteristics of Romaco Kilian's KTP420X.
The HMI panels of this tablet press also incorporate zoom and swipe navigation inspired by modern smartphones, underlining yet again exactly how easy it is to operate the KTP series.
Companies in this article