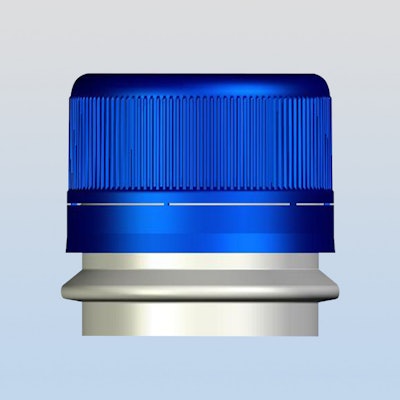 The new Steri-Shield™ 38-mm closure features a taller profile than the non-TE version to provide brand owners with a different aesthetic profile.

The ESL/aseptic category has traditionally used closures with thermoplastic elastomer (TPE) or foil liners to achieve seal integrity for both low- and high-acid beverages. By eliminating the liners, the plug design helps minimize package cost and contribute to material source reduction. Due to positive reception of the initial launch, the company has added this taller, tamper-evident option to the line.

"Closures for ESL and aseptic applications need to stand up to rigorous performance demands. The design has to create an effective cap-to-bottle seal without using a liner. Mating with the bottle finish inner surface to create an effective seal is critical. It also has to withstand stringent filling conditions," explained Roy Robinson, vice president of business development, Portola Packaging.

Portola's new Steri-Shield™ linerless TE plug closure is compression molded using high-density polyethylene. The end result is a lightweight closure which can withstand an aseptic sterilization environment of up to 140 deg F, as well as the rigors of distribution.

"Offering a linerless, tamper-evident alternative gives brand owners another way to meet consumer needs. Not only does Portola's new plug closure design deliver the desired seal performance, but it is easier for consumers to open because there is no liner to negatively impact torque," said Robinson. "Further, the taller profile provides another option to enhance visual aesthetics."

The commercialization is being backed by shelf-life testing protocols that Portola developed internally to predict the performance of the plug closure over time. Computer modeling was used to accurately project shelf life and other performance attributes to make sure that the closure would meet aseptic drink performance expectations.

Portola's new Steri-Shield™ plug closures can be made in a variety of sizes ranging from 38 to 43mm, with or without a tamper-evident band. The line is ideally suited for a wide range of aseptically filled beverages including juices, isotonics, dairy, energy drinks, milk, vitamin waters, drinkable yogurt, teas, and others.
Companies in this article